Introduction
Overview of distribution in supply chain
Distribution refers to the "steps taken to move and store a product from the supplier stage to a customer stage in the supply chain". Distribution dominance is significant in a supply chain because "it is a key driver of overall profitability of a firm because it directly impacts both the supply chain cost and the customer experience" (Chopra, 2003). Distribution management is an important aspect of every business since it helps to increase profitability by directly impacting the supply chain cost and the customer experience. This means that a firm must adopt the most suitable distribution strategies to succeed from low cost to high responsiveness (Christopher, 2011).
Aim
This report's aim is to provide a clear understanding of the role played by supply chains in the distribution of goods and services. The study will show that with strategic management of the supply chain a business stands to profit in a great way.
Scope of the report
This report analyzed different choices of distribution strategies that are being used in different firms. The reasons for implementing the strategies, the strengths and weaknesses are discussed; the strategies discussed include warehouse, cross-dock, direct shipment, trans-shipment and postponement. The impacts of each strategy upstream and downstream in the supply chain are well described.
Methodology
This report demonstrates the concept of dominant distribution strategies in the centric supply chain. The group collected the relevant data by examining literature reviews, case studies that talked about the distribution strategies from such sources as the databases, journal articles, Internet websites, and books.
Distribution strategies
Warehousing
Warehouse Theory
Distribution operations consolidate process to guide distribution center physical activities which include product receipt, material movement, storage, and order selection (Bowersox, Closs and Cooper, 2002). In addition, warehousing strategy refer to the ability to manage more effectively such issues as inventory and storage systems, handling system, product quality, safety stock and control system in distribution center. In other words, warehousing can help distributer to manage right product at the right place, at the right time with right quality (Koster, Le-Duc and Roodbergenthat, 2007) consequently reducing warehousing cost. For instance, an efficient storage location may reduce the travel times for storage/retrieval and order picking (Zevgolis, Mavrikos and Kaliampakos, 2003). Furthermore, warehousing strategy also improves the efficiency of distribution process leading to timely and time saving decisions such as when products arrive and where they should be stored.
Where the strategy is being used?
Warehousing strategy is being used in distribution activity starting with receipt or unloading merchandises – that may be raw materials, packing materials, spare parts, components, or finished goods. Machines significantly accomplish unloading activities in a warehouse setting. Furthermore, in regard to the movements within the warehouse, products must be moved and stored in a manner that will make accessing them easy as this will make it very easy for offloading and loading hence saving a lot of time when it comes to their distribution (Faber, Koster, and Velde, 2002). For example, when products have arrived at distribution center, the use of lift trucks should be encouraged because they will make the whole process of offloading or loading pretty fast. Moreover, conveyors belts can still be used to move the goods into the transportation vehicle, warehouse, or ship. The belts run continuous and can be used to move some substantial weight of goods.
In addition, product position is utilized by warehousing strategy. There are variable products sizes so storage plan should consider such as aspects product's volume, weight, and storage requirements (Bernard, Grabner, and Robeson, 1993). For instance, high volume products should be located near the entrance of a warehouse such near doors, initial aisles, and at lower levels in storage racks to decrease movement. Additionally, heavy items should be stored at positions which are low to the ground to minimize on lifting.
Order selection is one of activities of significance in a warehouse setting. There are various methods which can be used to carry out selection of good once they are stored in a warehouse, for example, Radio Frequency Identification (RFID) can facilitate to identify product and item position, barcode can help record amount of goods (Karagiannaki, Papakiriakopoulos, and Bardaki, 2011). The example of warehousing strategy in distribution is as appendix 1 A.
Reason for implement strategy
Reducing the movement to the level lowest and make the necessary movements as efficient as possible including movement of materials for short distances within a warehouse or between storage areas and transportation.
Increasing efficient storage/retrieval. There are various facilities that can improve warehouse operations such as lift trucks, conveyers, AS/AR machine (Appendix 1 B).
Reducing processing time by using technology such as RFID that can help in identification and tracking of items in a warehouse (Appendix 1 B).
Reducing operation cost such as labor cost by using technology instead of manual processes which mostly make use of human labor force.
However, there are some impacts of warehousing strategy in distribution center that are explained in Appendix 1 C.
Cross-docking
Cross Docking Strategy
Cross docking is one of the distribution strategies widely used in food and retail industries such as Wal-Mart (Appendix 2A); the strategy is used for mass inventory replenishment (Bowersox et al., 2002). Cross docking is a logistics practice. It hastens the flows of products from supplier to customer as quick as possible. In addition, when the huge quantity of finished product from multi suppliers arrive at the distribution center, they are sorted, consolidated and transferred to retailers by vehicle without storing them for any long term (Yan and Tang, 2009). Lead time for the products within the Distribution Centre (DC) or warehouse is not over 12 hours. Therefore, the relationship between supplier, DC and retailers should be connected with highly advanced information system (Simchi-Levi et al., 2008). Emmett (2005) suggested that Electrical Data Interchange (EDI), email and bar code technology would be useful in cross docking system for integration within DC and suppliers/customers.
Where the strategy is being used
Cross docking strategy has been known for distribution practice and is efficient in a large distribution system. The vehicle used in cross docking normally is fully truckload (FTL) or less-than-truckload (LTL) which carries out the transportation from the manufacturer to DC. When the products reach DC, the products are sorted, consolidated and distributed to retailers immediately (Kreng and Chen, 2008). Cross docking is classified into three types basing on company purpose; the three figures are DC, hub-and-spoke and flow-throw centers (Saxena, 2007). It is applied in a variety of businesses such as automotive, retail store, food stores and so on. Moreover, cross docking is appropriate to manage final product and delivery to end customers (Kinnear, 1997).
Reasons for implementing cross docking strategy
Cross docking is a potential technique which helps a business supply chain achieve stock reduction, decrease fixed resource, and quick response in management systems along with improved service and also control the movement of business into the right direction (Kinnear, 1997). Furthermore, Sung and Song (2003) pointed out that cross docking is powerful strategy for transportation cost reduction and decreases delivery time while not rising inventory levels. Therefore, it improves the way to quickly response to customer demand and speeds up the products flow (Lee et al., 2006). Finally, applying cross docking in distribution strategy can help the business to decrease and largely economize the total cost in the whole supply chain especially on holding and order picking cost (Kreng and Chen, 2008).
Benefits of cross docking
Bardi et al. (2002) described some of the benefits of cross docking:
Diminishes costs such as handling, operating and warehouse costs.
Reduces inventory level.
Boost sales from the available space.
Faster delivery to distributor, end customer, and market.
Immediately replenishes orders when new inventory is arrived at cross-docking point.
Retailers have high competence to streamline from point of origin to points of sales.
Reduce transportation expenses.
Impacts of cross docking
The achievement of cross docking is based on operation efficiency and effective designing such as size, staging of inventory, number of forklifts, and door layout among other aspects. If it is not well managed or poorly designed, it will affect to handling cost negatively and obstruct reaching the benefits as well (Yang et al., 2010).
Directshipment strategy
Direct shipment theory
Direct shipping is direct shipment from manufacturers or suppliers which delivers goods directly to the retailers without passing through the warehouses or DCs (Simchi-Levi et al., 2008, p. 230; Chopra, 2003). The application of the direct shipping strategy is illustrated in figure 1 below.


The retailers and manufacturers are the two main parties in supply chain that are involved in this strategy. Direct shipping acts as a link between the end users and the producers by transferring the order information from the consumers to the producers. The retailers in this case are not involved in the delivery of the goods. In most cases the retailers do not keep the stock but instead obtain the order information from the end consumers and transfer it to the manufacturers. Once the orders are filled, the goods are directly transported from the manufacturer to the retailers (Chopra, 2003). The retailer's information systems are usually integrated with those of the producers and the consumers. Communication technologies such as RFID and EDI help in integrating the activities of all partners in the supply chain (Katz, Pagell and Bloodgood, 2003, pp. 291-302). This helps them to provide the end users with information on product availability while enabling them to track their orders throughout the supply chain.
Reason for implementing direct shipping strategy
In supply chain management, it is important to concentrates on 4R's to gain competitive advantages. In this case, direct shipping strategy is dominant in certain type of products and industry because it allows both upstream and downstream to focus and manage the 4R's in supply chain (Appendix 3 A). According to MWPVL (2009), direct shipment is appropriate and widely used in fast moving consumers goods (FMCG), high velocity, and high consumer demand merchandise. Therefore, direct shipping distribution system is dominant in retail sector such as such as grocery and technology industry. In grocery industry, the lead time is critical because of perishability of goods and thus the need for continuous replenishment; on the other hand, responsiveness is important for technology industry (Appendix 3 B). These industries require Just In Time (JIT) delivery system for more frequent deliveries based on high demand (Christopher and Holweg, 2011).
Impact of direct shipping
The direct shipping characters and the impact it has on the supply chain is outlined below:
The direct shipping strategy is based on a pull system. This means that the production and distribution in the supply chain is based on the actual demand as reflected by the orders placed from end consumers (Creazza and Dallari, 2010, pp. 154-164).
A supply chain using direct shipping is characterized by lean inventory, which is normally held by the producers and the consumers only (Capato, Fratocchi and Pelagagge, 2005, pp. 876-899).
Direct shipping is an information-intensive process that requires a high level of synchronization of the operations of all parties in the supply chain (Barratt, 2003). Both upstream and downstream need to exchange their information by using collaborative planning for supply chain visibility.The direct shipping strategy can only be efficient if it is supported by an effective e-commerce system that helps in synchronizing the operations of the supply chain partners.
Some advantages and disadvantages of these strategies are discussed in (Appendix 3 C).
Trans-shipping
Trans-shipping theory
Trans-shipments or termed as redistribution is practical action of transferring the inventory between the members of the same level in the supply chain as an additional source of replenishment (Herer et al., 2002). Tagaras (1999); Lee, Woo and Jeon (2007) defined "the transshipments as the redistribution of stock from retailers with stock in hand to retailers that cannot meet customer demands or retailers that expect significant losses due to high risk" (p. 1) This policy is not only applied at the downstream, but also used at the upstream level of the supply chain. However, at some cost, the transshipments strategy is a power mechanism to coping with unexpected shortage when the lead-time for the supply is relatively long, and the demand for each location is hard to determine. This procedure is commonly utilized among retailers due to the fact that it is shorter distance between retailers than the distance between suppliers to retailers (Dong & Rudi, 2004). The underneath figure 2 developed by Lee et al. (2007) genuinely describe Dong and Rudi's concept.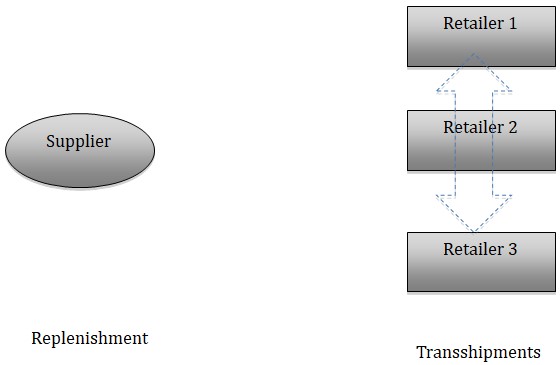 There are many researches and studies which have been carried out regarding the transshipment policy implied by retailers. Lee, Jung and Jeon (2007) asserted that utilizing of transshipment policy helps a company to improve service-level with demand correlation and reduce management cost compared to conservative policy which leave the retail stock out until the period of replenishment.
Undoubtedly, there is a trade-off between transportation cost and improved service level when applying the transshipment policy. Herer, Tzur and Yucesan (2002) claimed that the transshipment yields better than the approach policy of no-transshipment, as well as, it is an effective way to minimizing total cost. The proven explanation of total cost minimization is included in the (Appendix 4 A).
Transshipments policy is one of the alternative choices for enhancing replenishment system and especially quite appropriate in volatile market place. It eliminates time wastage through lead-time reduction. Along the way of transferring stock among locations, transshipment allows for the elimination of physical waste by keeping stock in a coordinated way among locations, therefore it reduces the overall inventory level for the echelon (Herer, Tzur and Yucesan, 2002; Dong and Rudi, 2005).
Benefits and Impacts of Transshipments
From many researches and studies' point of view, it can be said that transshipments has a crucial impact on supply chain performance.
Achieving economy of scale
Service level increase
Reduce wasted lead time
Respond quickly with an emergence stock out
Agile to the volatile market demand
As said by Herer et al. (2002) "transshipments is one of the approaches which is inexpensive and fast whilst concurrently reducing cost and improves service in supply chain" (p. 1).
Postponement strategy
Postponement Theory
The postponement strategy is one of the most popular concepts, widely implemented in contemporary supply chains. Generally, the postponement strategy means delaying supply chain activities purposefully, until the customers' order is received (Swierczek, 2009). Furthermore, Pagh and Cooper (1998) indicated that postponement or mass customization refers to the extent that parts of manufacturing and logistics operations can be delayed until customer commitments are known and the uncertainty associated with operations can be reduced or eliminated.
Postponement is of two types: form and time postponement. Form Postponement involves delaying certain stages of the manufacturing process for a product until a customer order has been received (Zinn and Bowersox, 1988), which includes labeling, packaging, assembly, manufacturing. Time postponement refers to the situation where distribution or actual delivery of a product is delayed until customer demand is known (Bullock, 2002). In this paper, the distribution strategy will be discussed, hence, the time postponement is the center issue that will be researched deeply. On the other hand, Pagh et al. (1998) figured out the "logistics postponement strategy", in this strategy; manufacturing is based on speculation, and logistics is based on postponement. This is carried out by direct distribution of fully finalized products from a centralized inventory to final retailers or customers.
Recommendations
Customer value oriented service is important and thus value added is needed as part of services in distribution systems to the customers. For example, the distributors that provide direct distribution system could offerings:
Shelf inventory management – RFID
In-store forecasting
Store ordering
In-store merchandise – identifying which type of item should be stocked in each store (different segment) MWPVL (2009)
Conclusion
It can be concluded that all five distribution strategies; Warehousing, Cross-docking, Direct shipping, Trans-shipping and Postponement play an important role in global distributor centric supply chain. The main reason is because distribution acts as a link between the upstream and downstream. The main advantages of distribution system are that it helps to reduce lead time, inventory level and make whole supply chain more efficient. It also helps to foster strong relationships among parties involved in the distribution activities since it requires all supply chain partners to interact and collaborate in planning. However, it is important that the right distribution strategies are picked such that it becomes possible to match the product characteristic with the right technique. To gain competitive advantages, the distributor must add values as part of their services.
References
Abrahamsson, M. (1993) Time-based Distribution. The International Journal of Logistics Management, 4(1), 75-83.
Advance Agro Public Company Limited. (2008) Annual Report 2009. Web.
Bardi et al. (2002) Benefits of Wal-Mart's cross docking network. Web.
Barratt, M. (2003) Positioning the role of collaborative planning in grocery supply chain. International Journal of Logistics Management. 2(14), 53-63.
Bernard, L., Grabner J and Robeson, J. (1993) Integrated distribution systems: a management perspective. Journal, 23(5), 4-12.
Bullock. (2002). Knowing When to Use Postponement. Web.
Capato, C., Fratocchi, L. and Pelagagge, M. (2005) A framework for analyzing long-range direct shipping logistics.Industrial Management and Data System. 106(7), 876-899.
Cetinkaya, S., Uster, H. and Easwaran, G. (2009) An integrated outbound logistics model for Frito-Log: coordinating aggregate-level production and distribution decisions. Interfaces. 39(5), 460-475.
Chandran, M. P. (2003) Wal-Mart's supply chain management practices. ICFAI, Center for management research.
Chopra, S. (2003) Designing the distribution networks in a supply chain. Transportation Research Part E. 39(1), 123-140.
Chopra, S. and Meindl, P. (2010) Supply chain management: strategy, planning and operation, 4th edition. Prentice Hall, Boston.
Christopher, M. and Holweg, M. (2011) Supply chain 2.0: managing supply chains in the era of turbulence, International Journal of Physical Distribution & Logistics Management, 41(1), 63-82.
Chuang et al. (2008) A Study of How Distributors Provide Postponement Services in the Supply Chain. International Review of Business Research Papers, 4(1), 92-101.
CMP Media Inc. (2004) Wal-Mart Updates Top Suppliers on RFID Project; The company is seeking input based on where suppliers have distribution centers and manufacturing plants. InformationWeek, Computer Database (Wal-Mart).
Creazza, A and Dallari, F. (2010) Evaluating logistics networks configurations for global supply chain. International Journal of Supply Chain Management. 15(2), 154-164.
Dong, L and Rudi, N. (2004) Who Benefits from Transshipment? Exogenous vs. Endogenous Wholesale Price. Management of Science, 50(5), 645-675
Double, A. (1991) Public Co., Ltd., 2008, Double A Network: Double A Network comprise of the following businesses. Web.
Emmett, S. (2005) Excellence in warehouse management: How to minimize costs and maximize value. John Wiley & Sons Ltd., England.
Faber, N., Koster, R and Velde, S. (2002) Linking warehouse complexity to warehouse planning and control structure: An exploratory study of the use of warehouse management information systems Journal, 32(5), 381-395.
Herer, T. Y, Tzur, M and Yucesan, E. (2002) Transshipment: emerging inventory resources to achieve supply chain legality. International Journal of Production Economics, 80(1), 201-212.
Karagiannaki, A, Papakiriakopoulos, D and Bardaki C. (2011) Warehouse contextual factors affecting the impact of RFID, Industrial management & Data System, 111(5), 1.
Katz, J., Pagell, M. and Bloodgood, J. (2003). Strategies of supply chain communities. International Journal of Supply Chain Management. 8(4), 291-302.
KBS. (2007) Pick by light – Pick to light – Put to light – Pick by voice. Web.
Kinnear, E. (1997) Is there any magic in cross-docking? Supply chain management: An International Journal, 2(2), 49-52.
Koster, R., Le-Duc, T and Roodbergenthat, K. (2007) Design and control of warehouse order picking: A literature review, European Journal of Operational Research, 182(2), 481-501.
Kreng, V and Chen, F. (2008) The benefits of cross-docking delivery strategy: a supply chain collaboration approach. Production Planning & Control, 19(3), 229-441.
Lee et al. (2006) Vehicle routing scheduling for cross-docking in supply chain. Computer & Industrial Engineering, 51(2), 247-256.
Lee, H. Y, Jung, J. W and Joen, Y. (2006) An effective lateral transshipment policy to improve service level in the supply chain. International Journal of Production Economics, 106(0), 115-126.
Li, J., Chen, H. and Chu, F. (2010) Performance evaluation of distribution strategies for the inventory routing problem. European Journal of Operational Research. 200(1), 412-419.
Maister, D. (1976) Centralization of inventories and the – Square Root Low. International Journal of Physical Distribution, 6(0), 124-134.
Moberg, D. (2011) How Wal-Mart shapes the world: will the economy follow Wal-Mart's race to the bottom–or will social counterweights and other business models demonstrate a better way? The American Prospect, Expanded Academic, ASAP.
MWPVL. (2009) Direct Store Delivery Vs. Centralized Distribution In Retail, Food Industry – Supply Chain Brain Newsletter, International Supply chain experience.
Pagh, J. D and Cooper, M. G. (1998) Supply chain postponement and speculation strategies: How to choose the right strategy. Journal of Business Logistics, 19(0), 13- 32.
Sari, K. (2008) On the benefits of CPFR and JMI: a comparative simulation study. Production Economics. 113(1), 575-586.
Simchi-Levi et al., (2008) Designing and managing the supply chain: concepts, strategies, and case studies, 3rd edition. McGraw-Hill, Boston.
Simplot-Ryl, D., Stojmenovic, I and Bolic M. (2010) RFID Systems. John Wiley and Sons, UK.
Su, S. (2007) The emerging global direct distribution business model: industry and research opportunities, Transportation journals, 58-65.
Sung, C. and Song, S.H. (2003) Integrated service network design for a cross-docking supply chain network. Journal of the Operation Research Society, 54(12), 1283-1295.
Tagaras, G. (1999) Pooling in multi-location periodic inventory distribution system. Omega, 27(1), 39-59.
Waller, M. A, Dabholkar, P. A. and Gentry, J. J. (2000) Postponement, product customization, and market-oriented supply chain management. Journal of Business Logistics, 21(0), 133- 27.
Wal-Mart corporate. (2011) Logistics.
Yan, H and Tang, S. (2009). Pre-distribution and post-distribution cross docking operations. Transportation Research Part E, (45), 843-859.
Yang et al. (2010) An analysis of factors affecting cross docking operations. Journal of Business Logistics, 31(1).
Zevgolis, I. E., Mavrikos, A. A., and Kaliampakos, D. C. (2003) Construction, storage capacity and economics of an underground warehousing–logistics center in Athens, Greece. Journal, 19(2), 165-173.
Zhang, J. (2005) Transshipment and Its Impact on Supply Chain Members' Performance. Management Science, 51(10), 1534-1539.
Zinn, W and Bowersox, D. J. (1988). Planning physical distribution with the principle of postponement. Journal of Business Logistics, 9(0), 117-136.
Appendix
Appendix 1: Industry case analysis of warehousing
Appendix 1 (A): The Coca Cola Amatil (CCA) warehouse operation
The CCA is one of the largest manufacturer and distributor of beverages, which services numerous kinds of drinks around Australia. The Company handles several of the carbonate soft drinks and functional beverage.
The major working process of CCA is divided into two parts, which are buy-in and loading, and the process of loading is subdivided into large amount ones and small scale ones.
Firstly, buy-in process starts with the company buys a large amount of products that are carried by truck. When these trucks arrive, order details are confirmed by scanner. Then, the unloading machine will unload all products at once with the pallets under them. The whole process takes around two and a half minutes. If it is handled by men, the process can take hours. After the products are unloaded they are fed into a conveyer while the barcodes are scanned and information sent to a computer hub that will tell the system where the items should be located. Next, the products are transported to a certain pallet-lift table by overhead mono-rail system. At last, the stacker cranes put the products on a certain place of rack.
The second process is the loading process in response to an order for delivery to customer. For orders with a large amount of one product, a bulk of products are taken from a certain place of racking by stacker cranes, then products automatically sent to the pick hall for sorting and completion through case conveyer. After that, they are sent to loading dock via the mono-rail ready for automatic loading onto the delivery truck. In addition, smaller orders and several kinds of products for instance the beverages are picked from the automatically replenished stock locations within the pick hall. "Pick by voice" is used to pick different kinds of products so they do not need to pick products according to paper based order. In fact, pick-by-voice upon headphones and a microphone was quite convenient because that the operator's hands are freed to handle the stock items (KBS, 2007). The completed pallet is weighed as a final check and put back into the system via the mono-rail ready for automatic loading onto the delivery truck.
Appendix 1 (B): GENCO apply RFID to distribution center
GENCO Distribution System is an international distributions and logistics center located in Pittsburgh, PA and offers range of value-added supply chain solutions, including contract warehousing, reverse logistics, pharmaceutical returns, asset recovery, transportation management, supply chain analysis, parcel management, damage research and government logistics and support services to numerous retailers and manufacturers such IKEA, Sony, etc.
GENCO utilize RFID in its distribution operations. Radio Frequency Identification is a wireless technology that uses radio wave to exchange information between tag (transponders) and reader. It uses automated identification method which relies on storing and remotely retrieving data (Simplot-Ryl, 2010). Furthermore, RFID applied in distribution is used to identify product position when stored and retrieve items by installing RFID tag on material handling equipment such as a forklift that is used for collecting data, pallet and side of dock door. It can track products while they are arriving or leaving warehouse.
RFID improves the warehousing operation performance of GENCO. The first way in which RFID improves working efficiency is through the collection of different kinds of data, for example, through the forklift procedure all the RFID data from pallet can be automatically read, after which the worker can pick the right product in the right quantity. The second way in which RFID improves working efficiency is through reduction of operation costs, for instance, reducing cost of re-shipping goods in case products are picked and moved to wrong pallet: this can happen when customers return the products that are incorrectly shipped to them. RFID also saves on a lot time because there is order continuity and scheduling is carried out to the right equipment. Products are picked faster as forklift path and travel continuity are calculated by the system. RFID will automatically check activities in the stage area and the dock area. The overall order cycle time tends to be reduced.
Appendix 1 (C): Impact with upstream and downstream
It has been noted that warehousing faces some challenges. The first challenge which came out clearly was the requirement for expert knowledge and skills to a warehouse system if at all it has to operate efficiently. Another challenge that the system faces is the cost of implementation and running of an efficient warehouse system. The high cost is as a result of the cost of installation equipment such RFID, warehouse management software, among others. Another challenge that has been noted is that of the limitation imposed by a business plan when a warehouse is to be constructed. The warehouse business plan will have projection of the capacity of the warehouse and this will likely limit the expansion of the warehouse in future in case the need arises.
Appendix 2: Industry case analysis of cross-docking
Appendix 2 (A): Wal-Mart
Cross docking is beneficial for implementation in many companies. Wal-Mart is the most known as high grocery service in retail industry and the global supercenter (Moberg, 2011). Double A is a manufacturer and distribution company in paper industry in Thailand. Both companies are in different industries and countries but apply cross docking strategy in order to reduce on cots incurred in the distribution process.
The heart of Wal-Mart operations is logistics because it is the movement flow from manufacturing to store shelves. They have a highly advanced distribution management system in the world with exceeding 40 Regional Distribution Centers (Wal-Mart corporate, 2011) and have around 120 DCs in the United States (CMP Media, 2004). In particular, each DC operates 24 hours and 7 days a week with over 5 miles of conveyor belts and surpasses 9,000 different types of stock and contributes between 75 and 100 stores (Wal-Mart corporate, 2011). They operate more than 3,500 owned truck service which delivers merchandise from DCs to other stores within 2 days and replenish the shelves every twice a week. Wal-Mart's logistics infrastructure is quickly responsive especially in term of transportation system. To achieve Wal-Mart efficiency distribution process, a logistics technique is applied in the system known as 'cross-docking' (Chandran, 2003).
Cross docking in Wal-Mart is connected between suppliers, distribution centers and point of sale in every store by allowing the flow of order, products and information flow, packaging and transportation throughout (Bardi et al., 2002). Additionally, if a store requires dissimilar items then the purchase order is sent to manufacturers. After that, manufacturing plant will supply the items to staging place where packing order products are taken and then transported to different retailers and customers within the indicated time (Chandran, 2003). Hence, they have their own satellite network from 1987 (Wal-Mart corporate, 2011) to communicate between people in Wal-Mart's headquarters, DCs and each store. With this network, Wal-Mart can dispatch the point of sale data over 4,000 vendors.
Wal-Mart gains efficiency by implementing cross docking to decrease cost especially transportation costs, to achieve low inventory level and to replenish more frequency as quickly as product is sold. The process of cross docking in Wal-Mart is carried out by having the finished items transferred between trucks at cross docking point which means in each truck that delivers to retail store has products from dissimilar suppliers. Moreover, retail stores get permission to exchange the products at Wal-Mart docking point in case there is insufficiency and surpluses situation. Additionally, cross docking empowers Wal-Mart to achieve their profit increasingly and lower inventory cost (Chopra & Meindl, 2010). Bardi et al. (2002) points out that 85% of Wal-Mart products are handled by cross docking system which reduces 2-3% of sale cost. For this reason, Wal-Mart can apply lower prices to their customer and improve the ability to supply and demand matching while keeping cost low. Moreover, the company provides new operation for reaching the highly benefit of cross docking by changing the purpose from supply chain to demand chain which means that the customer's requirement will pull the merchandise when they is need. As a result, the company can reduce the handling and storage of finished items in distribution center (Chandran, 2003).
Appendix (B): Double A
Advance Agro Public Group Company, the so-called Double A, is a company involved in pulp and paper industry in Thailand. Double A manufacturer is located in Prachinburi province in Thailand. The company has more than 2,000 trucks used to distribute their products in the domestic market (Double A, 2008).
Double A applies logistics technique which is cross docking within two modes: firstly, for domestic where the firm has built distribution center for using cross docking in Phakhanong which is located in Bangkok. It is the place where the products are gathered and distributed from one vehicle to other vehicle. For example, finished products are shipped by big trucks from the warehouse in Prachinburi then the products are loaded into DC for packing and sorting. After that, products are transferred to small trucks and distribute to retailers around Bangkok. Cross docking process in DC take less than an hour. Secondly, for export to global market, cross docking is set up in Depot ground area in LaemChabung port. The depot is the station where packing and sorting for import and export or inbound and outbound activities take place. For example, by cross docking, truck delivery products to depot station for loading items into containers then the other trucks transport full containers and uploading into vessel while the empty trucks carry the raw materials from hub and back to manufacturer. As a result, Double A can reduce transportation cost and reduce waste time.
Appendix 3: Direct shipping
Appendix 3 (A): Direct shipping distribution dominant
Christopher (2011) mentioned that managing the '4R's' of responsiveness, reliability, resilience and relationships is important guide to manage the supply chain and to gain competitive advantage over competitors.
Responsiveness is very important for innovative products because these products have short life cycle and high demand (Christopher, 2011) In this case, Dell is able to improve responsiveness to consumer market needs. Dell is able to "respond to a wide of quantity demand" (Chopra, 2003) since they use a pull production system and postpone customization of their products. It enhances positive customer experiences since it focuses on reducing lead time and supply chain uncertainties in regard to product availability.
Reliability refers to the ability of the supply chain system to ensure timely delivery of goods to the end consumers (Christopher, 2011). In this case, Dell by transporting the goods directly to the customer saves time by eliminating the need to deliver the goods through retailers' warehouses. Pull system enables them to assemble the various product parts into a complete good when the customer's order is received. Thus they take a relatively short time to fulfill orders (Li, Chen and Chu, 2010).
Resilience refers to the ability of the supply chain to successfully deal with unforeseen threats. A supply chain system will be resilient if it can bounce back to normal operation after a significant disruption (Christopher, 2011; Barratt, 2003). The direct shipping strategy promotes resilience since its delivery cycle is calculated in terms of days and is based on JIT system (Su, 2007).
Relationships are very important in supply chain management. Direct shipping promotes interactions between the customers, producers, the retailers and the transporters. The strong relationship between the partners enhances cooperation among the firms in the supply chain and this helps in improving the overall efficiency of the system (Barratt, 2003).
Appendix 3 (B): Industry case analysis of direct shipping
Grocery Industry
In the grocery industry, direct shipping strategy is very important distribution channel because lead time is critical since the products involved are perishable (Simchi-Levi et al., 2008). According to MWPVL (2009), it is efficient channel for most of consumer goods such as:
Low shelf life products such as milk require a direct shipment from the manufacturing to the grocery store to reduce the time that product spends within the supply chains.
Low value density such as bread or potato chips need to be protected from too many touch points because it can get damaged very easily. For this case, most manufacturers use direct shipping to minimize the touch point in supply chain and avoid poor shelf presentation. However, the manufacturer and transportation costs increase.
The strategy enables the retailers to improve performance because they can minimize their inventory as well as increase inventory turns. They have the ability to improve over retail shelf space.
However, collaborative planning in the grocery industry is required for visibility in supply chain. Most direct shipping systems are supported by information and communication technologies such as EDI, which help in linking the information systems of all partners in the supply chain. Thus, the partners are interconnected in a manner that enables them to easily share information on demand and product visibility. Retailers need to provide the demand through POS data to the manufacturer or suppliers to plan their inventory (Barratt, 2003). Sari (2008) suggested that CPFR promotes resilience, which helps in avoiding the risks associated with disruptions such as shortage of goods. For example, all supply chain partners (suppliers and manufacturers) can predict market demand on when to increase the size of their inventory so that they can fulfill all orders from retailers even if there is a disruption in their production systems in the short-term.
High technology industry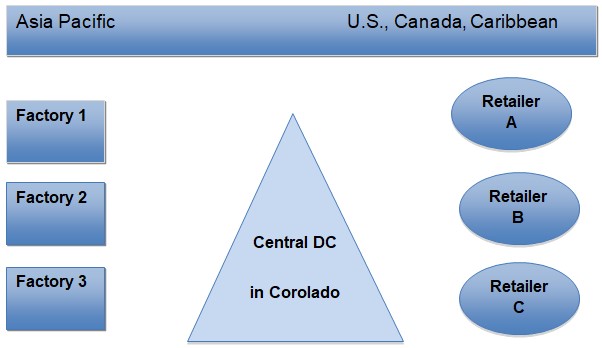 The effectiveness of distribution strategies is depends on the conditions of products. Certain types of products maybe suited for direct shipping whereas some may not be (Li, Chen and Chu, 2010). In supply chain management, an appropriate technique must be used to match the product characteristic and meet consumer market. Japan's Pentax is a producer of digital and film camera. Pentax concentrates on managing responsiveness and reliability in supply chain. Pentax used traditional distribution "warehousing" system to delivery goods from manufacturing to their DC in Colorado and then distributed out to retailers. This is very inefficient for them because of long lead time and high level of inventory; it takes ten days to delivery goods to retailers.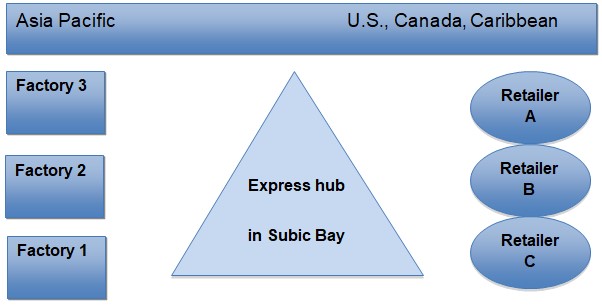 In this case, speed is very important in response to consumer market needs. Thus the Company has shifted from the traditional distribution to direct shipping distribution system of JIT supply chain. The products are moving from the regional manufacturing located in Asia- Pacific directly to the retailers by using the third party logistics (3PL)(Su, 2007). The main reason for outsourcing was to "gain access to capacity when required" (Christopher and Holweg, 2011, p. 72). Consequently, it can be expensive to implement and to operate. The advantage of using 3PL is to enable Pentax focus on their core competencies and let FedEx carry out the transport duties. The direct strategy and the use of 3PL has improved Japan's Pentax Corporation performance because it reduced lead-time from manufacturer across Asia to retailers by half from ten to five days. The company is working with FedEx to distribute goods from the manufacturing area in Asia-Pacific hub to the express hub for the consolidated and then shipped by air to retailers in U.S., Canada and Caribbean.
Direct shipping strategy allowed the firm to increase sales potential and reduce long-term inventory levels because they can save on total inventory expenses. There are no distribution costs and savings on handling costs.
Appendix 3 (C): Advantages and disadvantages of direct shipping
The direct shipping strategy is associated with the following benefits
Direct shipping allows both manufacturers and retailers to lower the Inventory level from carrying less safety stock and raw materials. The manufacturers are able to postpone customization of their products until the customers place their orders, which enable them to reduce storage costs. It enable manufacturer to aggregate demand: Thus they are able to ensure product availability even if they hold low levels of inventory (Sari, 2008). The retailers are enabled to improve performance, increase their profitability and customer service level since it helps to improve over retail shelf space. There is low risk of damage or loss of goods and requires less staff to handle expensive products. It also minimizes delivery lead time and minimizes handling costs since goods are shipped directly to customers (Simchi-Levi et al., 2008; MWPVL, 2009).
The direct shipping strategy is associated with the following disadvantages
For manufacturers, there are high transportation costs because customers require more frequent deliveries with small trucks and location requirements which are diverse (Simchi et al., 2008). Manufacturers also incur higher packaging costs since direct shipping necessitates the use of package carriers which are associated with higher costs per unit as compared to "truckloads or less-than-truckloads" (Katz et al., 2003). Moreover, the supply chain partners can be faced with high response time: since the order information has to be transferred to the manufacturers through the retailers. Besides, the transportation takes a long time due to the long distance involved. The response time is usually high if the supply chain lacks an efficient communication system (Christopher and Molweg, 2011; Chopra, 2003).
Appendix: Trans-shipping
Appendix 4 (A): Expansion discuss of Trans-shipping
Proven explanation for total cost minimization by transshipment utilization
Recently, Lee et al. (2007) proposed a new lateral transshipment policy which is called service level adjustment. They presented and compared four classifications of transshipments including;
Lateral transshipment based on availability TBA
Lateral transshipment for equalization TIE
No lateral transshipments NLS
Lateral transshipment for service level adjustment SLA *
The research done by Lee et al. (2007) aimed at describing the transshipments' effectiveness in achieving the higher service level and reducing the long run total cost. The experiments were compared by four simulations namely, the simulation of total cost by back order cost, the simulation of total cost by ordering cost, the simulation of total cost by holding cost, and the simulation of total cost by transportation cost.
The conducted experiments were done under the assumption that transportation unit cost between two retailers is sufficiently low. As a result, the hypothesis was that lateral transshipment for service level adjustment would maximize customer satisfaction and reduce management costs. Thereby, they concluded that SLA absolutely performs better than no lateral transshipments policy.
Appendix: Postponement
Appendix 5 (A): Postponement strategy dominant
Waller et al. (2000) pointed out that washing machine manufacturer Whirlpool had employed the time postponement strategy very effectively in its US operations. Through market research, the company found that most consumers did not expect their orders to be delivered immediately, since many customers bought houses which could not be moved into immediately. The company reconfigured its supply chain so that inventories at department stores were kept to a minimum and it delayed delivery until orders had been received. This reduced the need for cross-docking and dramatically reduced inventory and transport costs while decreasing stock outs and improving customer service. In addition, this can allow inventory to be reduced significantly since it reduces the need to maintain large stocks at distribution centers (Waller et al., 2000).
Chuang et al. (2008a) has conducted another case study of electronic products distributor—Mobicon, which is the first distributor listed in Hong Kong stock market, also a dominant distribution player in a global distributor centric supply chain. The relationships among its upstream and downstream partners (figure 3) are complicated; it has manufacturers, principles, and some principles' agent as its upstream, and retailers, traders, distributors and manufacturers as its downstream. Mobicon's upstream suppliers are major IC component manufacturers who gain most of the benefits from a push strategy. On the other hand, its downstream parties are influenced by demand-pull because they are closer to the consumers responsible for producing volatile demand (Chuang et al., 2008b).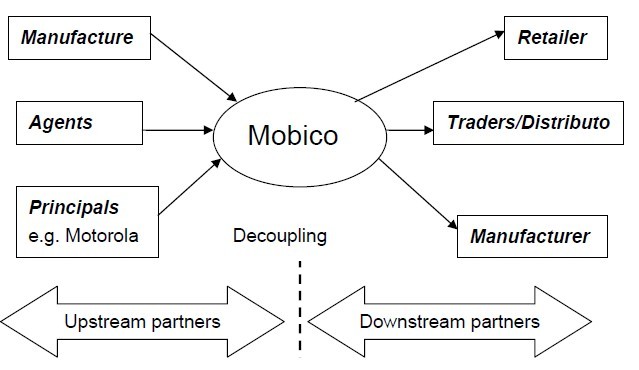 In this case, Chuang et al. (2008c) pointed out that, Mobicon is at the point where its upstream prepares a buffer of inventory while capturing downstream demand signals from customer orders. This postponement allows mass customization of customer orders, which facilitates all the flows in the total chain that balance long lead times and rapid responses to orders. Mobicon acts as the distribution point and keeps components in stock to serve the different downstream players, such as manufacturers. This delay in activities enables the supply chain to capture real demand easily so as to eliminate the inaccuracy of demand forecasts. Activities are order-driven so that obsolescence is minimized.
There is another study provided by Abrahamsson (1993) on three Swedish international companies (Atlas Copco Tools, SandvikCoromant and ABB Motors). Simply, they just changed their strategy from speculation (stocking fully finalized goods in each European country) to logistics postponement, this change is simply having same advantages as shown by Chuang et al.'s study, which has resulted in increased on-time deliveries of complete orders, shorter and more reliable lead-times, reduced inventory costs, constant transportation costs, and faster introduction of new products in the assortment (Abrahamsson, 1993). He also figured out that the anticipatory nature of logistics is reduced or completely eliminated, since products are distributed directly to retailers/customers. The centralization of inventories reduces the amount of stock required to offer high in-stock availability. However, Maister (1976) mentioned that shipment cost might increase due to smaller shipment sizes and faster modes. Finally, manufacturing economies of scale are preserved.