Mental health disorders are the most common issues in the New York community. In the annual analysis, one out of five individuals develops mental health disorders. Furthermore, one out of ten children and adults develops severe complications of mental health disorders to the level that their functioning is affected either in the family, school, and work-life (Weinberger et al., 2018). The most common mental health disorders in New York include depression, bipolar mood disorder, and schizophrenia.
The most common causes of mental health disorders include substance abuse, alcohol, and idiopathic causes. Substance use such as marijuana has caused various mental disorders, which has caused several deaths in New York. Environment, lifestyle, and genetics influence the development of mental health conditions. Stress at home or workplace and traumatic events predispose individuals to mental disorders (Freeman et al., 2020). Although the causes and influences of mental health disorders are known, little is known about the barriers to effective healthcare services.
In the U.S., mental disorders are common, whereby one out of five people lives with a mental disorder. About 51.5 million people in 2019 were diagnosed with mental illness. The prevalence of mental illness is common among women than men, with 24.5% and 16.3% (Weinberger et al., 2018). Mental illness is higher in two or more races, comprising 31.7% of all the mental disorders within the U.S. (Weinberger et al., 2018). The whites are the second common race with develops a mental illness with 22.2% (Weinberger et al., 2018). It is estimated that about 970 million individuals have a mental disorder globally by 2017 (WHO, 2017). The highest number of individuals had an anxiety disorder which is 4% of the total population in the world. The prevalence of mental disorder is more common among women than in men across many countries. Mental illness associated with alcohol and substance abuse is more common in men (WHO, 2017). Disorders such as anxiety, depression, and eating disorders are more prevalent among women as compared to men (WHO, 2017). The evidence of mental illness globally are provided in the figure below.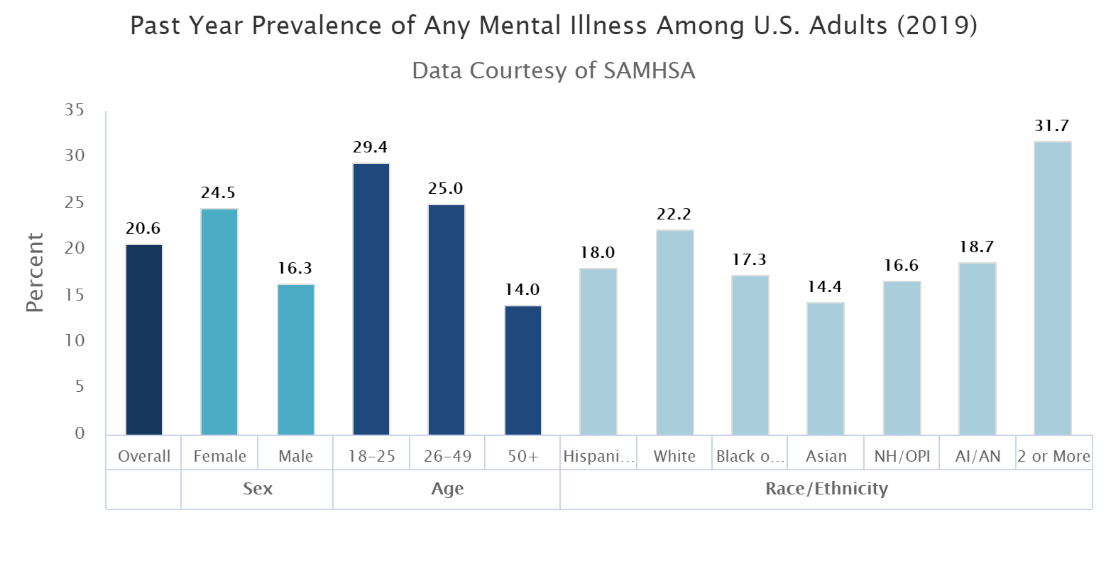 American Psychological Association has estimated that 2.4 trillion U.S. dollars are used in the healthcare management of conditions within the U.S. in 2013. This amount of money also included 'out of pocket' costs by individuals and those spent by government and private insurance programs. Substance and mental health disorders costs are 187.8 billion U.S. dollars, according to a 2013 report. The total amount of money spend on depressive disorders is 71 billion U.S. dollars (Dieleman et al., 2017). In 2019, the amount of money used to treat mental illnesses was 225 billion U.S. dollars (Dieleman et al., 2017). These costs include medications, rehabilitation, and other forms of therapy.
Various advanced roles and management strategies affect change at the community level. The first strategy is to form partnerships with populations and communities focused on disease prevention and health promotion. The community members are viewed as equal partners when carrying out community services. Public health nurses in the 21st century have focused on addressing the most prevalent mental illness within the communities (Kulbok et al., 2012). The competencies and knowledge of public health nurses prepare them to take leadership roles in assessing the community's needs and proposing interventions.
The second strategy includes enhancing and supporting community members to understand health information. This is important in improving community members' efforts to access health care services. The other way of increasing community members' literacy about the health conditions is by building offices and facilities within the community for easy access (Kulbok et al., 2012). The third strategy is increasing awareness of the health conditions within the community through campaigns against those illnesses such as mental health disorders.
There are various community and social resources that positively impact the mental health of individuals. The first resource is having a sense of belonging to a particular community promotes individuals' emotional and mental well-being. Due to shared hobbies, locations, background, life experiences, and shared interests, communities that exist are communities. Communication with other community members or online platforms improves their mindset and self-worth (Castillo et al., 2019). Having individuals to depend on and talk to about problems and making new connections with various people through social groups and hobbies reduces the risk of developing mental illness.
Community-related changes and enhancements of mental health illnesses comprise various interventions. In the last seventy years, mental health care services have been taken to the communities where these services are needed. Effective strategies for addressing mental health disorders such as talking therapy have been employed to manage these mental illnesses. Community attitudes towards mental health have improved since people accept that mental illnesses are a medical condition that needs to be treated. People are becoming supportive in addressing mental health issues within the communities (Australian Government Department of Health, 2019). Community members who have undergone a traumatic experience during their childhood are confident and willing to talk about it.
The strategic plan of addressing mental health issues within the community involves setting a goal to be attained after effective interventions. This strategic plan aims to reduce the impacts of mental illness and improved treatment and recovery of patients within two years by implementing comprehensive recommendations by the healthcare providers. Health literacy is covered through health education and creating awareness about mental health conditions within the community. Socioeconomic factors are considered by providing affordable mental health services and weaving those unable to pay for the services (Canady, 2018). Cultural factors are covered through collaborating with various individuals who come from various cultural diversities.
In conclusion, the strategic plan's goals comprise mental health implication reduction, improving treatment modalities to enhance patient recoveries. The challenges encountered during the implementation of this plan include insufficient funds, language barriers, and lack of cooperation from the community members. The general outlook of implementing this plan comprises of many stages. The first stage is disseminating the project to all the stakeholders involved in the plan. The second stage is generation funding and support, which are necessary to carry out the plan. The thirds stage is creating an implementation group that comprises a competent health professional with mental health specialities. The fourth stage is selecting a demonstration area before implementation of the plan. The fifth stage is empowering mental health workers by giving them incentives. The sixth stage is improving inter-sectoral coordination through formulation and coordination of action plans (Canady, 2018). The last stage is implementing the action plan and continuous monitoring and evaluation of the plan's effectiveness.
References
AHRQ Health Literacy Universal Precautions Toolkit. (2020). Agency for Health Research and Quality. Web.
Australian Government Department of Health. (2019). Connectedness – Community. Welcome to Head to Health | Head to Health. Web.
Canady, V. A. (2018). SAMHSA announces a four‐year strategic plan. Mental Health Weekly, 28(44), 7-8. Web.
Castillo, E. G., Ijadi-Maghsoodi, R., Shadravan, S., Moore, E., Mensah, M. O., 3rd, Docherty, M., Aguilera Nunez, M. G., Barcelo, N., Goodsmith, N., Halpin, L. E., Morton, I., Mango, J., Montero, A. E., Rahmanian Koushkaki, S., Bromley, E., Chung, B., Jones, F., Gabrielian, S., Gelberg, L., Greenberg, J. M., …,& Wells, K. B. (2019). Community Interventions to Promote Mental Health and Social Equity. Current psychiatry reports, 21(5), 35. Web.
Dieleman, J.L., Baral, R., & Birger, M. (2017). U.S. Spending on Personal Health Care and Public Health, 1996–2013. JAMA. Web.
Freeman, D., Sheaves, B., Waite, F., Harvey, A. G., & Harrison, P. J. (2020). Sleep disturbance and psychiatric disorders. The Lancet Psychiatry, 7(7), 628-637. Web.
Kulbok, P.A., Thatcher, E., Park, E., & Meszaros, P.S. (2012) "Evolving Public Health Nursing Roles: Focus on Community Participatory Health Promotion and Prevention" OJIN: The Online Journal of Issues in Nursing, 17(2), 2-6. Web.
Safe Patient Project. (2021). Nursing roles. Safe Patient Project Blog | End secrecy, save lives. Web.
Weinberger, A. H., Gbedemah, M., Martinez, A. M., Nash, D., Galea, S., & Goodwin, R. D. (2018). Trends in depression prevalence in the USA from 2005 to 2015: widening disparities in vulnerable groups. Psychological medicine, 48(8), 1308-1315. Web.
World Health Organization. (2017). Depression and other common mental disorders: global health estimates (No. WHO/MSD/MER/2017.2). World Health Organization
Appendix A
The roles of public health nurses in focused community participation in prevention and health promotion include collaboration and partnership with the community members. Collaboration with various agencies is encouraged over preventive and curative services to have been the interest ever since in the old times. Taking leadership positions has been gained through advanced knowledge and competencies (Kulbok et al., 2012). The nurse should create awareness of community issues and consumer sites to promote high-quality care by administering safe drugs, reducing complications, and ensuring physician accountability (Safe Patient Project, 2021). Gordon's functional health patterns provide a framework in which data can be collected and identify health risks within communities (AHRQ Health Literacy Universal Precautions Toolkit, 2020). The role of public health nurses is crucial in ensuring that health promotion and mental health disorders are prevented.