Introduction
The health industry represents a fifth of America's economy and carries social significance due to its ongoing focus on quality of the services. However, the healthcare industry is dragging both in provision of value within the health industry and adoption that would have guaranteed Americans high quality health care (Landro 14). While the U.S. healthcare "absorbs more than $1.7 trillion per year twice the Organization for Economic Cooperation and Development, average-premature mortality in the country is much higher than OECD averages" (Hillestad, Bigelow, Bower and Girosi 1103). The committee on quality of healthcare in America from the Institute of Medicine (IOM) has taken initiative steps on healthcare quality since 2000 (Sokol and Molzen 450). The IOM committee presented a series of quality reports identifying gaps in healthcare quality in areas including healthcare information systems (HIS) and patient safety (Swan, Lang and McGinley 35). As per the IOM report, errors in the healthcare industry are due to failures in organizational systems and various organizational factors. The IOM and the Joint Commission on the Accreditation of Healthcare Organizations (JCAHO) are trying to implement error-reducing processes. In a series of reports, IOM recommended implementing an electronic health record program (EHR) to achieve effective coordination of clinical services and in turn to improve healthcare quality (IOM,). At present, when several healthcare practitioners treat a patient, they often have insufficient information on the medication prescribed or details about their patient's illnesses. Most medical records are still stored on a paper, which makes it difficult to properly coordinate care and provide detail information to the consumers about healthcare costs or quality and to make informed decisions about their care (Hillestad et al.1117).
Value in Healthcare
Porter and Teisberg (247) note that performance improvement and accountability in any field largely depends on the presence of a common goal that harmonises the activities and focus of all the stakeholders. Conversely, U.S. healthcare is characterised by conflicting goals that include, services accessibility, profitability and cost reduction, providing high quality care, satisfaction and convenience. These divergent goals can be attributed to lack of clarity about the goals.
The overall aim that should override others in all healthcare systems is to offer high value for patients in healthcare delivery. Value is defined as the resulting health outcome for every dollar spent. From the point of view of the patients, this is what matters and it should unite the interests of all the players in the U.S. healthcare delivery system. An improvement in value does not only benefit the patients and increase the economic sustainability of the health care system but also the suppliers, providers and payers.
The U.S. healthcare value remains largely elusive, unmeasured and often misconstrued. Basically, value should be given meaning from the customers point of view. This definition should thereafter determine the rewards that the other actors in the system will receive. Any strategy focusing on cost reduction in disregard to the healthcare outcomes achieved is both disastrous and self defeating.
The State of the American Health System
The United States spends approximately US$ 2 trillion per year on health care and the figure is expected to rise to $3.62 trillion by 2016. This is primarily because it has one of the largest and most diverse societies in the world. This figure implies that for every seven dollars in the economy, one dollar is used on health care. Notwithstanding this huge spending, not all the U.S. citizens enjoy medical coverage. Majority of the citizens enjoy health insurance provided by either their employers or through government programs such as Medicaid and Medicare. Compared to other European countries, the U.S has the most technologically advanced health care system in the world and has the largest per capita health care expenditure yet available data suggests that America is not the healthiest society in the globe.
In most cases, the medical system hinders efficiency in the delivery of healthcare to the patients. The American medical system is characterised by high levels of fragmentation, complex regulations that vary from state-to- state and from city -to- city. This situation is further worsened by the existence of both government and private owned bureaus. These institutions determine who gets what type of treatment. The high levels of fragmentation are partly accounted for by the American culture. Americans prefer variety; such a cultural preference comes at a great price in the healthcare system. The health system challenge America is facing can be categorised into two: provision of healthcare to all the citizens; and getting a higher value from the US$ 2 trillion presently being used on healthcare. It is projected that by 2030 the number of citizens covered by Medicaid will be approximately 78 million due to the large number of aged people who are entering their retirement periods. Medicaid receives a bigger part of its funding from the federal government; however, individual states also have a significant share of the cost, which burdens the state budgets (Davis et al. para. 6).
Unless significant reforms are under taken, health expenditures are expected to grow at very high rates. Relative to other industrialised countries, health care expenditure in the United States accounts for a bigger share of the GDP. Despite this huge investment 16 percent of Americans (approximately 49.9 million) lacked health care coverage for the whole of 2010.others had the option of insurance but the cost was high, while others voluntarily made a decision not to pay for it. Available data from the Kaiser Family Foundation suggests that majority of the uninsured come from households with an annual income of above $75,000.
Summary of the Challenges the American Health Industry Faces
In 2010, the government passed the health care act, but its effects remain to be seen, the challenges continue to affect health care delivery. These include; aging population; while the U.S. population is aging, the life expectancy of senior citizens is also extending. In the coming years, budgetary allocation for senior citizens is expected to stretch the health care system budgets. By the beginning of 2011, the 76 million surviving baby boomers attained 65 years of age. As a result, the increase future health care spending will result in serious budgetary problems for the federal government. It is projected that the number elderly people will sky rocket from approximately 47.7 million in 2010 to over 78 million by 2030.
In addition, the cost of administering Medicaid at the state level has sharply increased to the extent that expenditures in crucial sectors such as education have been cut to finance Medicaid.
The American of life has also seen the number of otherwise preventable diseases rise sharply thereby raising the cost of medical care. Overweight and obesity, relate cases are exceeding excessive pressure on the overall health care costs. Almost a quarter of the annual health expenditure is spent in treating three killer diseases in the U.S; cancer, stroke and heart disease. It is approximated that up to 70 percent of the total budgetary allocation to the health care sector is spent in chronic diseases. (Anderson et al. para. 8)
Table 1: Health Services and costs in the America, 2011
| | |
| --- | --- |
| Service | Expenditure in billions of $ |
| Hospital care | 831.5 |
| Physician and clinical services | 537.4 |
| Prescription drugs | 276.6 |
| Nursing home and home health | 221.9 |
| Dental care | 105.5 |
| Other items | 787.1 |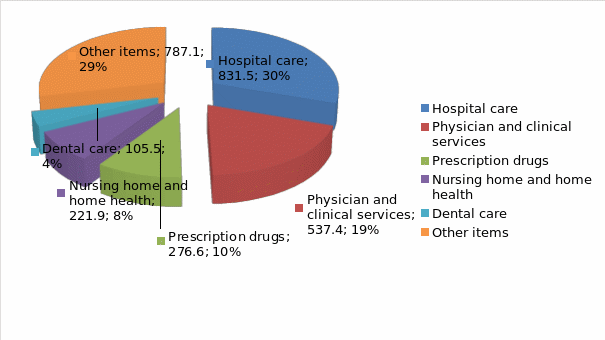 For 2011, hospital care accounted for $831.5 billion of the total health care expenditure, physician and clinical services was $537.4 billion, prescription drugs was worth $276.6 billion, home health and home nursing amounted to $221.9 billion, other items $787.1 billion while dental care had a an expenditure of $ 105.5 billion. The U.S. federal government has a program named Medicaid. Through this program, healthcare is provided to disabled persons children included low-income individuals in addition to certain groups of elderly persons in nursing homes.
U.S Health Care Spending Compared with Other Developed Countries
Table.2: Total expenditure on health, /capita, US$ purchasing power parity 2006-2009
| | | | | |
| --- | --- | --- | --- | --- |
| | 2006 | 2007 | 2008 | 2009 |
| United States | 7073 | 7437 | 7720 | 7960 |
| Australia | 3164 | 3353 | 3445 | |
| Austria | 3629 | 3792 | 4128 | 4289 |
| Belgium | 3279 | 3437 | 3714 | 3946 |
| Canada | 3665 | 3844 | 4024 | 4363 |
| Netherlands | 3613 | 3944 | 4241 | 4914 |
| New Zealand | 2467 | 2525 | 2784 | 2983 |
| Norway | 4507 | 4885 | 5230 | 5352 |
| Spain | 2536 | 2735 | 2971 | 3067 |
| Sweden | 3193 | 3432 | 3644 | 3722 |
| Switzerland | 4150 | 4469 | 4930 | 5144 |
| United Kingdom | 3006 | 3051 | 3281 | 3487 |
According to the data above from the Organization for Economic Cooperation and Development [OECD], average spending on health per person has increased from $7073 in 2006 to $ 7960 in 2009. The OECD comprises of 30 countries most of which are economically advanced. For the purpose of this paper, the counties above were picked to aid in comparison. From the figure, it is clear that the U.S. per capita spending ion health care doubles that of the majority of OECD member countries for all the years listed. In deed, no other country allocates a bigger part of its Gross Domestic Product to health care relative to the United States (Anderson and Markovich para. 3).
Why the United Sates Spends So Much in Health Care
The United States faces acute problems with regard to ever increasing health care spending. The United States has both high expenditures in health care and spends more per capita income on health. Compared to other countries, the rates for both public and private spending are growing at rates far above other comparable countries. Yet as noted earlier, these expenditures do not result in improved health outcomes. This paper will employ the data from the Organization for Economic Cooperation and Development(OECD) to weigh the growth of health care expenditure in U.S.A to those of other industrialised nations. The proportion of Americas GDP devoted to health care rose from 9 percent in the 1980s to 16 percent of GDP in 2008.this increase of 7 percent is the highest among all OECD countries.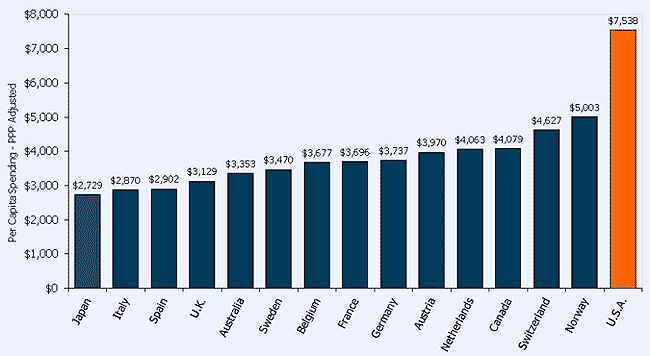 Figure 2 indicates the per capita heath expenditures for the year 2008 measured in American dollars purchasing power parity. From the figure, it is evident that health spending is high in the U.S compared to the other countries. The U.S expenditure approximately 51% ($ 2535) higher than that of Norway, which is the next biggest spender. For the rest of OECD member countries their expenditures is half that of the United States.
Generally, an increase in GDP is normally associated with an increase in health expenditure. However, the united states case is an exception because its expenditure far surpasses that of other equally wealthy nations. The following figure 3, highlights the linkage between a countrys Gross Domestic Product per person and its health care spending per person.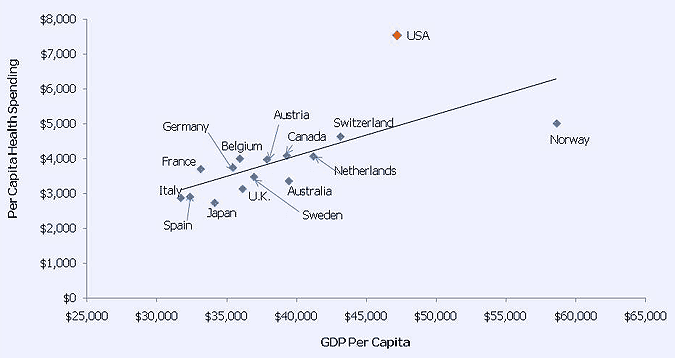 Annual Growth Rates and Health Expenditures
Compared to other OECD countries, the United States increases its spending more than any other country. From figure 3, the health-spending trend for the five countries is indicated. United States expenditures surpassed that of the other countries in 1990s and 2000s due to her high level of growth rates. The United States experienced a reduced growth rate in the in the early 1990s, however, in the late 1980s and the 21 century it experienced a boost in growth levels.
Health Care and Financial Services an Opportunity for Future Growth
As American consumers become more active in saving for their health care, the financial services and health insurance industry are merging. This movement has affected the health insurance industry because of the available profit opportunities and the threats of competition. As a result, companies offering health insurance have to create more strong alliances with the consumers and partnership with financial service providers. In order to tap the new opportunities available, the insurance firms must assume critical roles in the value chain.
Brian et al. (5) notes that the convergence between the insurance sector and the financial sector offers five different opportunities of which three are consumer centred. Currently, nearly 80% of consumers do not meet their health care deductibles in a given year. Insurers stand to benefit if they can identify these low risk customers, insure them and undertake to manage their risks. Another avenue of possible investment opportunity is in the retirement and health care products. As noted earlier majority of the baby-boomer who are still alive are approaching their retirement age. Ass they retire, they switch their attention more towards income generation and asset protection, accumulation of wealth becomes a secondary goal. Those who are preparing to retire need quality solutions to enable them mange the economic health related risks.
Out of pocket payments for medical care in the America amounts to approxuimately$375 billion. A firm that can successfully assist the providers in recovering the $60 billion healthy care related bad debt stands to benefit from almost a billion or more profit before tax. Given their historical strengths, the financial institutions stand to benefit if they pursue this avenue (OECD para. 5).
Given that the consumer now bears the biggest percentage of health care costs, the demand for supplementing risk products such as long-term care insurance, insurance for disabilities, and insurance for critical illness will increase. These products are projected to generate net margins of between $ three to five billion in the next ten years. The amounts of premiums that the payers traditionally earned are also projected to decline. This is because; the employers will transfer a significant portion of the health care costs and risks to the employees. What this means is that unless the insurers those who are preparing to retire and their range of products and improve on their techniques of distribution, they are likely to lose their revenues to insurers who are more specialized.
Another avenue for future health care growth lies in the field of outsourcing. As employers, increasingly outsource the benefit administration for their employees, the resulting industry has a potential growth of 15 percent per annum with annual sales revenues worth $ 50 billion. Health care providers and insurance companies stand to benefit if they choose to offer employers benefit administration outsourcing or enter into p[partnerships with companies for example data processors.
Regulations likely to impact on Americas health system
In 2010, a new law called the Patient Protection and Affordable Care Act (PPACA) was enacted. This law is expected to restructure health care delivery in the United States. Generally, this law seeks to reform certain in efficient aspects of both private and public health insurance, it also aims at ensuring inclusivity through the expansion of health care insurance to cover up to 30 million U.S. citizens. Several provisions of the law will take effect at various time intervals the earliest took effect in 2010. The law makes it a requirement for all insurance providers to charge the same premium for all applicants of the same age and location who apply to be considered regardless of their pre-existing status. In addition, the new law seeks to establish exchanges for health insurance. Through such a mechanism, it will offer a market place where both individuals and small businesses can make comparisons between premiums before buying health insurance. Kin addition, individuals who are qualified for government subsidy will acquire it.
The comprehensive health insurance law is also expected to result in an overhaul of the United Sates healthcare payment system. This is attributed to the automation of health care transactions, and the ever-increasing competition from new entrants who are more innovative and efficient. It is estimated that by the year 20112, approximately 80 percent of the total $80 billion of Americas core health care transactions will be automated. However, this does not include the pharmacy and the laboratories, as they are already largely electronic.
Under the new legislation, the Medicaid program will be expanded to include encompassing individuals and families who despite the fact that they are above the poverty level cannot afford to pay for their health insurance cover. The law would encompass individuals whose incomes don not surpass 133 percent of the federal level of poverty or income of $14400 for every individual and $ 29330 per family of four individuals.
New penalties have also been approved that will see both employers and employees who fail to secure health insurance fined. However, these fines are subject to certain hardship exceptions. Employers who have more than 25 employees or those who submit tax returns equalling to 8 percent of the total payroll must offer insurance on behalf of their employees. In addition, those who fail to maintain their health insurance policies are subject to a penalty fee totalling to 2.5 % of the total adjusted gross income.
The health care sector is also expected to experience cost savings through Medicare payment reform. This program is aimed at ensuring health care efficiency and quality delivery. This initiative will tackle the traditional problems of excessive utilization, waste, abuse and fraud. A new policy proposal by the White House seeks to replace the Medicare Payment Advisory Commission (MedPAC) with amore independent advisory council has proposed a new law. The new council will be mandated to set reimbursement rates subject to the president's approval. In addition, it will guide Congress on matters affecting the Medicare program.
The financing of the health care expansion brought by the new legislation will entirely be met by the federal government in the first three years of its implementation. By the year 2017, 5 percent of the budget will be transferred to the states. States that had provided coverage before the health care reform came into force will be rewarded by getting a higher rate of federal coverage for adults who lack children dependants. This enhanced reward will take effect as from January 2014 and the reward will be varied across states.
THE reform also takes into account health insurance for children. It is important to mention that it existed even before the new regulations were enacted. The new regulations have simply given recognition. In addition states are required to maintain the chip program as a condition for receiving Medicaid funding from the federal government. Presently, the children's health insurance program (CHIP) covers up to 7 million children from low income families.
Conclusion
In order to transform the health care system in America, there is need to shift to value based competition where service providers compete to offer the best value of health care to patients (customers).This can only be achieved if the health care system is restructured so as to synchronise service delivery to the medical conditions. in the past a number of ideas put forward to improve the value of health care have failed. There is a general consensus in the America that health care costs in the United Sates are high yet there is no value in the resulting health outcomes. The reforms so far undertaken but failed to include a single payer model, which lacked competition and as a result became inefficient and failed to offer a solution. In addition, the electronic medical records system succeeded in improving health care through automation yet failed to change the inherent fundamentals; pay for performance approach that was intended to reward providers who adhered to processes and guidelines, yet given that value in the health care industry lies in the outcomes. Further, following guidelines alone failed to deliver quality; consumer driven health care, this is premised on the idea that by making the consumer bear a big percentage of the health care cost, the health care system will be reformed. This has failed because thorough reforms cannot be left to consumers only. According to Porter and Teisberg (278), these measures cannot address the fundamental value issues in health care.
In order to achieve significant improvement in value, the health care service delivery system has to be restructured. Competition as a force has been successful in creating value in other sectors but in health care, it has failed. For the U.S. to achieve value in health care, the following principles must be adhered to the overall goal should be value for patients and not simply cost reduction. Both high value and reduced costs can be achieved in health care delivery if the quality of care is improved. This is because a superior health is inexpensive. Therefore, more effort should be directed towards, disease prevention, timely detection, and proper diagnosis and guarding against health complications; to achieve value, health care must be in line with medical conditions over the period of care.
Health providers should use their value of care as the major distinguishing factor from their competitors. The delivery of health services offered such as heart operations, mammogram should be re organized around a patients medical conditions. In doing this, the service providers will focus on specific medical conditions, which they can handle best, and will not treat all conditions. With such a focus, the health provider will acquire all the necessary expertise and equipments necessary to treat that condition thereby ensuring high value care at low costs. For example in West German, there is a hospital which focuses only in treating headaches; another avenue for delivering value lies in the providers experience and learning at the level of a particular medical condition. Borrowing from Adam smiths concept of division of labour and specialization, focused health care personnel who treat the same condition over and over again will acquire greater efficiency at lower cost, thus delivering value to the customers; to facilitate quality health care delivery, a standard measure and reporting of value is necessary across the globe. Rather than focusing on measuring the processes as it is currently, more emphasis should be placed in measuring health outcomes because that is where value lies. Although the measurement of outcomes at the level in which value is delivered to the customer is difficult relative to processes, it is necessary; regulations on reimbursement should be reorganized around value and should reward innovative processes.
The current system of payment is for disconnected types of treatment sand services. In order to achieve value, payments need to be levied on pay providers. Through such initiative, pay providers will have the incentive to be innovative and deliver efficiently. In the absence of bundled payments, health care providers are tempted to do more in order to get a larger pay. For those providers who manage prevention, screening and chronic ailments, they need to be reimbursed; the health care service delivery cannot be achieved without embracing technology. Although IT cannot achieve value in health care alone, it is necessary in the creation of patient database and other internal uses that will facilitate coordinated delivery of health care. It is worth emphasizing that unless care delivery processes as a whole are reformed, information technology on itself cannot provide a solution to the existing (Anderson et al. 8)
A good example to illustrate the coordinated health care is the Joslin centre for diabetes. Diabetes is a serious problem in the United States with approximately 24 million patients. This is double the figure a decade ago. Diabetes growth rate is at 8 percent per annum. The government incurs a cost of up to $ 170billion almost 10 percent of the total budgetary allocation for health care in the United States. The average cost per year of caring for an individual suffering from diabetes stands at $ 12000 per annum. This is four times higher the cost of caring for a person with no diabetes. Diabetes has serious consequences such as heart disease, blindness and kidney failure all of which impose serious costs on the health care system. It is estimated that a year heart attack care and dialysis costs $60000 and $ 36000 respectively.
The Joslin centre for diabetes specializes in one aspect that is the provision of exceptional coordinated care for some 24000 diabetes patients. The centre has developed a more efficient health care system where each patient has to under go nine different procedures. Out of the nine, five are for value addition, two for quality control and two carry out administrative procedures. Medical records are kept electronically for each patient entering the Joslin centre for purposes of tracking quality. The results from Joslins care prove that this model works to improve on the health outcomes. For example, it has been established that early diabetes intervention decreases the chance of late blindness from 60 percent to just 1 percent. Relative to Americas average cost per year for diabetes patients, the average cost of care per year at Joslin stands at $1,465 less. This is a good example of a good transition from acute care to constant care and from a care delivered in an isolated manner to a care delivered in a coordinated way. Such a model is both preventive and reduces costs in the long term (Porter and Teisberg 350).
Works Cited
Anderson, Bianca, Frogner, Roger, Johns and Uwe, Reinhardt. Health care spending and use of information technology in OECD countries. Health Affairs 25.3 (2010):819-31.
Anderson, Gerard and Markovich, Patricia. Multinational comparisons of health systems data, 2009. The Commonwealth Fund. Nov. 2009.Web.
Hillestad, Richard, Bigelow, James, Bower, Anthony and Girosi, Federico. Can electronic medical record systems transform healthcare? Potential health benefits, savings, and costs. Health Affairs, Chevy Chase 24.5 (2005): 1103-1117.
Karen, Davis, Cathy, Schoen, and Kristof, Stremikis. Mirror, mirror on the wall: How the performance of the U.S. health care system compares internationally, 2010 Update. The Commonwealth Fund. 2010. Web.
Landro, Linda. What is ahead for health care: Information technology could revolutionize the practice of medicine, but not anytime soon. Wall Street Journal 5.2 (2001):14.
Organization for Economic Co-operation and Development. OECD Health Data. OECD Health Statistics. 2010. Web.
Porter, Michael and Teisberg, Elizabeth. Redefining health care: Creating value-based competition on results. Boston: Harvard Business School Press, 2006.
Sokol, Alex and Molzen, Charles. The changing standard of care in medicine: E-Health, medical errors, technology, and new obstacles. The Journal of Legal Medicine 23 (2002): 449- 490.