Introduction
PepsiCo is a multinational organization in the United States that manufactures, markets, and sells non-alcoholic beverage products such as carbonated soft drinks, cereals, and snacks. The company has an extensive product portfolio comprising of at least 20 brands. Currently, its central base of operation is located in Harrison, New York (Zhang, 2019). Some of the examples of the brands it offers the customers are Doritos, Tropicana, Kevita, Mountain Dew, Gatorade, and many more. PepsiCo operates in an oligopolistic industry alongside its core competitor the Coca-Cola Company.
Company Name and Products Sold
PepsiCo has primarily specialized in making and selling products in various categories. In particular, the American giant retails merchandise in classifications such as soft drinks, cereals, and snacks. Currently, the company boasts a large portfolio of products comprising of up to 22 brands. However, it has also captured other market segments by offering bottled water, breakfast bars, sports nutrition, and energy drinks (Zhang, 2019). Lastly, it has improved its product mix by offering the customers side dishes and rice snacks.
Since PepsiCo has a global brand recognition, its product offerings extend to most of the countries. On average, the soft drink manufacturer generates in excess of $70 billion in net revenues (Miglietta et al., 2017). This percentage of income is mainly attributed to its Frito-Lay subsidiary which makes and promotes potato and corn chips and Pepsi-Cola segment which manufactures fizzy drinks (Miglietta et al., 2017). In particular, PepsiCo's flagship brand is referred to as Pepsi, which is its famous carbonated drink. It is often packaged in a red, white, and blue can.
History of How the Company Started
PepsiCo's inception dates back to 1893 when Caleb Bradham created it in North Carolina. As such, the Pepsi-Cola Company was established as a result of the increasing popularity and demand for the organization's syrup with its founder as the first president in 1902 (Zhang, 2019). Due to its brand management efforts, PepsiCo's logo was changed for the third time in 8 years in 1906. By 1919, the soft drink giant was incorporated in Delaware (Zhang, 2019). Moreover, in 1923, its brand name and secret recipe was bought by Craven Holding Corporation.
PepsiCo made a significant transformation in its operations by introducing a swirl bottle model in 1958. Moreover, in 1963, the American giant unveiled the Diet Pepsi drink while focusing its promotional activities on the younger generation (Zhang, 2019). PepsiCo's strategic growth also improved when it acquired the Mountain Dew marque in 1964 and later consolidated with Frito-Lay. Three years later, the new subsidiary Frito-Lay unveiled Dorito's tortilla chips in the United States (Miglietta et al., 2017). Finally, the US behemoth purchased Tropicana in a transactional deal worth $3.3 billion.
At the beginning of the 21st century, PepsiCo reached a contractual agreement to purchase the Quaker Oats organization. In 2014, the American soft drink manufacturer also bought Caleb's Kola, a differentiated kola crafted using various ingredients (Du et al., 2018). PepsiCo started its journey towards health consciousness by introducing Zero-calorie products in 2016. Lastly, it also introduced LIFEWTR in 2017 alongside Tropicana Essentials Probiotics (Du et al., 2018). In 2018, PepsiCo unveiled bubbly, a spiced sparkling water without artificial sweeteners.
Company's Major Accomplishments
PepsiCo has reached a number of milestones in its history of growth. For example, as part of its growth process, the company collaborated with Unilever to make iced tea. Moreover, the company has also worked with Starbucks by entering a joint venture to manufacture bottled Frappuccino, refreshers, and iced coffees (Kraus et al., 2020). In its strategic development, the company successfully entered the bottled water market with the help of Aquafina (Du et al., 2018). Apart from its business accomplishments, PepsiCo been recognized for its philanthropic efforts from supporting more than 1,000 communities and distributing 20 million nutritious meals to the poor.
Due to its accomplishments, PepsiCo has been recognized globally with a number of reputable organizations. For example, the American brand was recognized by Forbes as an exceptional employer. Moreover, its participation in diversity and engagement enabled it to win an award from Latino Leaders Magazine (Amini et al., 2018). It also received an award from Food and Agriculture Leadership for exceptional performance (Amini et al., 2018). Wall Street Journal has also recognized PepsiCo in its company rankings as it has also been listed as number 51 in the Fortune 500.
Factors for its Success
PepsiCo's business model has enabled it become successful in the food and beverage industry. Currently, its food segment accounts for 53% of its income while the rest come its beverage subsidiaries (Zhang, 2019). Its success is also attributed to its maintenance of one corporate culture which has remained dominant throughout its organizational management. In addition, various mergers and acquisitions have enabled PepsiCo to maintain peak performance. Over the years, the company has effectively utilized this strategy to ensure expansion. Another significant factor that enabled it to become successful is subcontracting its bottling operations while maintaining economies of scale through value chain alignment to gain competitive advantage.
Over the years, PepsiCo has remained among the leading corporations in its industry due to its global expansion and dominion over distribution and production scales. Moreover, the company significantly invests in commercials and other promotional acts to create awareness for its brand while reinforcing its business image. PepsiCo's consideration of health consciousness by introducing zero-calorie products has enabled to become successful, outperforming other firms in its industry (Bazzani et al., 2020). Lastly, its success is also attributed to exceptional strategic planning which incorporate human resource management, procurement, and technological development.
Exceptional use of technology has enabled PepsiCo to become successful. With consistent use of beverage innovation, the company improves its portfolio thereby boosting its performance. In addition, the American giant is also successful become it has a history of always adjusting to consumers' changing habits, preferences, and inclinations (Zhang, 2019). Under its marketing mix, PepsiCo offers exceptional packaging which is appealing to the customers. Its competitive strategies, comprising of market and product development enables it offer new merchandise to capture new markets. Lastly, PepsiCo's market penetration enables it increase its sales.
Suggested Product 1: PepsiCo Biscuits
PepsiCo should consider divesting from its Diet PepsiCo product and invest in making biscuits. This product can help it in increasing its revenue by focusing primarily in the United States market. These biscuits should be marketed towards millennials and children, accompanied by appealing packaging (Grasso & Asioli, 2020). In particular, the American brand can consider using demographic and psychographic segmentation strategies to reach its customers. In addition, television commercials, print advertising and billboards can enable it increase awards of the new product (Grasso & Asioli, 2020). Lastly, PepsiCo can use product-based positioning approaches to win a considerable market share.
Sales Projections: Biscuits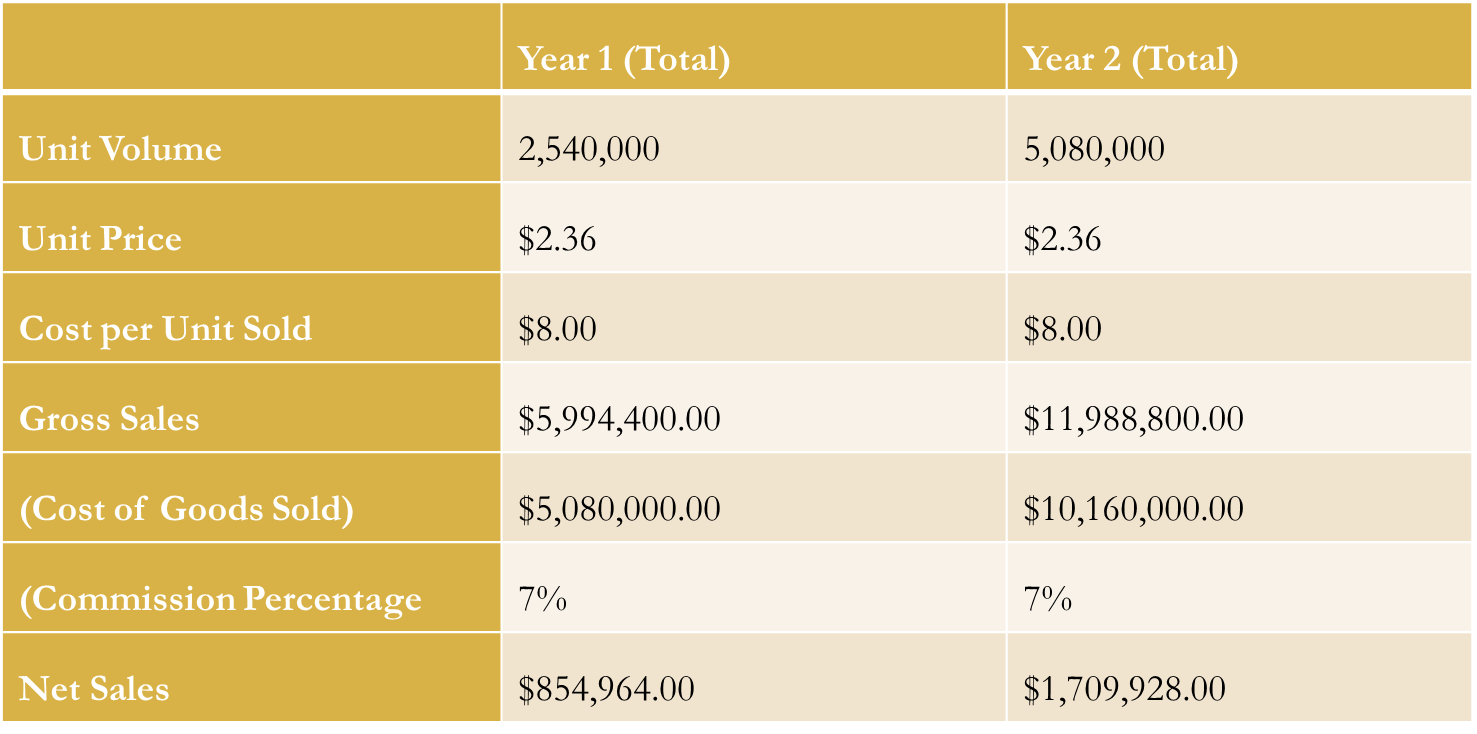 The table above indicates the proposed sales projections for PepsiCo's suggested product, biscuits. According to the industry's average, the unit price of a biscuit in the United States is approximately $2.36 (Grasso & Asioli, 2020). In addition, an estimated cost of producing one unit of biscuit is $2.00. as such, the expected gross sales to be generated in the first and second years are $5.9 and $11.988 million with a percentage commission of 7%. In particular, the company should expect to make net profits of $854,964 in the first year and $1.7 million in the second year.
Suggested Product 2: PepsiCo Wine
The United States is the leading consumer of wine in the world and PepsiCo can capitalize on this opportunity to increasing its revenues. PepsiCo can consider discontinuing its production of Diet Pepsi to channel the resources in the wine industry. The primary market for the proposed product should be consumers above the age of 18 (Niimi et al., 2019). In marketing, PepsiCo can consider using celebrities in advertising since they can vouch for and recommend the product to increase awareness. Brand ambassador can also be used to build trust and convince the market to purchase. Lastly, PepsiCo can consider using various events that promote and reinforce its brand, thereby allowing the customers to purchase its wine products.
Sales Projections: Wine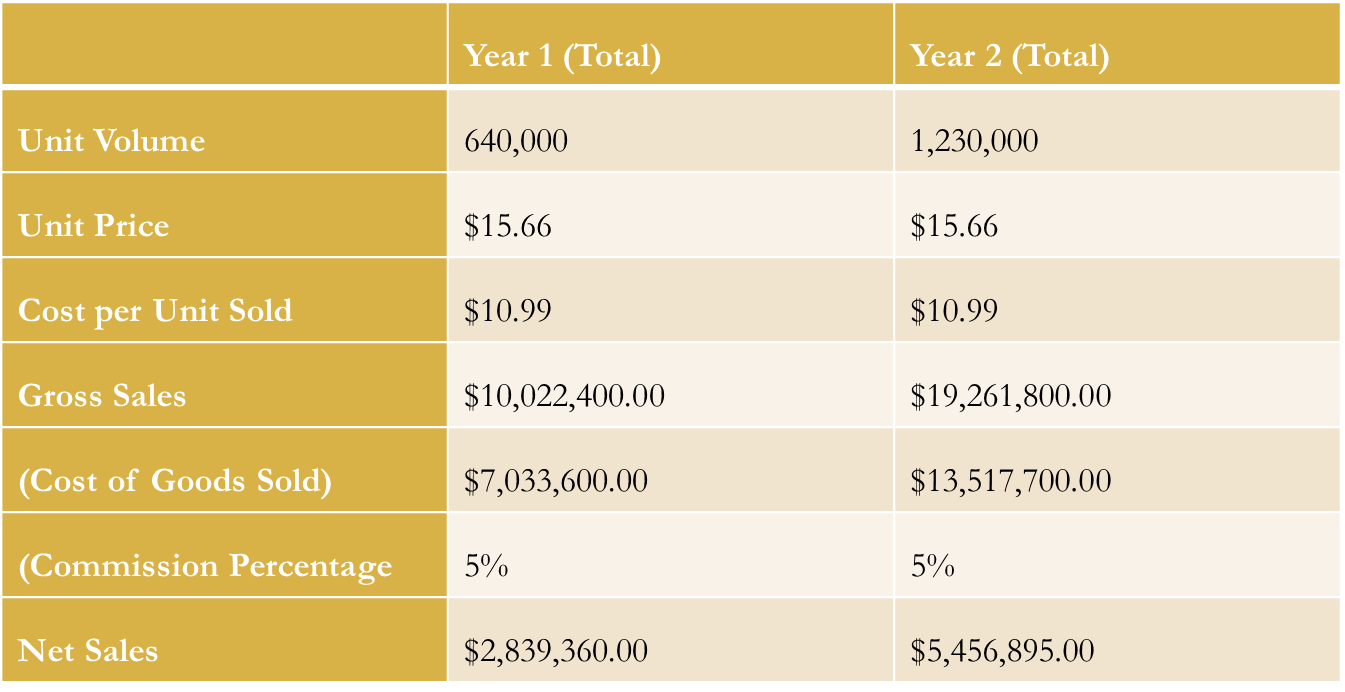 The table above indicates a proposed sales projection for PepsiCo's proposed wine product. According to the industry's average, the price of one bottle of wine is approximately $15.66 while the cost of making unit of wine bottle is about $10.99 (Niimi et al., 2019). As such, PepsiCo should expect to make gross sales of $10 million in the first year of introduction and $19.2 million in the second year. Moreover, with a commission of 5% and the cost of goods sold considered, PepsiCo should expect $2.8 and $5.4 million in net profits in its first and second years respectively.
Conclusion
The two products proposed for PepsiCo are worth pursuing because they are present in profitable industries. For example, the United States is considered as the world's leading consumer of wine and as such, PepsiCo can make considerable revenues from it. In addition, the biscuit market in the US is worth an estimated $14.64 billion and is anticipated to grow in future (Grasso & Asioli, 2020). Therefore, PepsiCo can consider investing in these markets to continue building its brand and increasing its market share. In essence, the company should consider divesting from its Diet Pepsi subsidiary.
References
Amini, M., Bienstock, C. C., & Narcum, J. A. (2018). Status of corporate sustainability: A content analysis of Fortune 500 companies. Business Strategy and the Environment, 27(8), 1450–1461. Web.
Bazzani, C., Capitello, R., Ricci, E. C., Scarpa, R., & Begalli, D. (2020). Nutritional knowledge and health consciousness: Do they affect consumer wine choices? Evidence from a survey in Italy. Nutrients, 12(1), 84. Web.
Du, M., Tugendhaft, A., Erzse, A., & Hofman, K. J. (2018). Focus: Nutrition and food science: sugar-sweetened beverage taxes: industry response and tactics. The Yale Journal of Biology and Medicine, 91(2), 185.
Grasso, S., & Asioli, D. (2020). Consumer preferences for upcycled ingredients: A case study with biscuits. Food Quality and Preference, 84, 103951. Web.
Kraus, S., Rehman, S. U., & García, F. J. S. (2020). Corporate social responsibility and environmental performance: The mediating role of environmental strategy and green innovation. Technological Forecasting and Social Change, 160, 120262. Web.
Miglietta, N., Battisti, E., & Campanella, F. (2017). Value maximization and open innovation in food and beverage industry: Evidence from US market. British Food Journal, (119)11, 2477-2492. Web.
Niimi, J., Danner, L., & Bastian, S. E. (2019). Wine leads us by our heart not our head: Emotions and the wine consumer. Current Opinion in Food Science, 27, 23–28. Web.
Zhang, Z. (2019). Risk Analysis of Two Leader Drink Company: PepsiCo and Coca-Cola. Asian Business Research, 4(3), 42. Web.