Introduction
Tesla is a technological company in the automotive and energy solutions sector founded in 2003 by Marc Tarpenning and Martin Eberhard. It is named after Nikola Tesla, who devised the technology. Elon Musk mainly funded the company's operations through PayPal. The founders sought to develop sports electric cars. The company has also diversified to commercial production of market disruptive luxury electric cars. Tesla designs and manufactures electric vehicles mainly in the United States (US), accounting for up to 50 percent of its market. In 2006 Tesla formally introduced its first electric car, the Roadster, a lightweight model whose body was made out of carbon fiber ("Tesla business analysis," n.d). The company has to date, developed over five models of electric vehicles, including the Model S (introduced in 2012), Tesla Autopilot (introduced in 2014), and the Model X SUV or "crossover" vehicle (introduced in 2015).
However, electric cars did not bring in much sales revenue to the company. The initial cost of producing the cars was very high. In 2017 the company opted to focus on the manufacture of an inexpensive four-door sedan, the Model 3. The Model 3 Sedan is one of the top-selling brands worldwide loved due to its design and performance. Later on in the year, Tesla introduced the Tesla Semi, a safe and comfortable truck model. In 2019, Tesla introduced a mid-size SUV, the Model Y, based on the Model 3 platform to accommodate up to seven people (Furrier, 2020). The wholly electric cars run on rechargeable lithium-ion batteries.
In 2016, Tesla introduced the self-driving technology feature that is still under testing and development. The company's manufacturing facility is located in Fremont, California, United States (US), and Shanghai, China. In 2015, the company branched into the design and development of solar energy generating and storing products, including the Powerpack, Solar Roof, and Powerwall. In 2016, Tesla acquired SolarCity, a solar panel manufacturing company. Subsequently, the name Tesla Motors was dropped, and a new name Tesla Inc. adopted (Furrier, 2020). The energy storage products are sold to utility sites, commercial establishments, and homes.
Company Mission, Vision, and Value Proposition
Tesla's mission and vision are to be a global leader in the use of sustainable energy. According to Tesla Annual Report (2020, p.3), the company seeks "to accelerate the world's transition to sustainable energy." The company's orientation to achieve this is by employing cutting-edge technology in order to compete successfully with the traditional car manufacturers. Also, Tesla has invested in marketing and creating awareness of the importance for the world to shift to clean energy (Tiwari, 2017). Today, there is a profound concern for the environment amid the devastating effects of climate change.
Tesla's innovation has revolutionized the electric vehicle industry. The company has developed critical technology that has enabled it the wherewithal to manufacture electric cars that provide speed, exclusivity, safety, cutting-edge battery technology, and sustainability.
The company's vision statement expounds on its mission specifically be aiming to;
Create the most compelling car company of the 21st century; and to
Drive the world's transition to electric vehicles.
Despite the negative perception and suspicion encountered by the company early on, Tesla soldiered on in helping customers reduce dependence on fuel-powered cars and embrace electric technology. It has developed electric car models that match and even beat the typical gasoline makers' matching specifications ("Tesla's mission is to accelerate the world's transition to sustainable energy," n.d). Its innovation and resilience have exceeded people's expectations.
Tesla's value proposition is to create "the only stylish car that can go from 0 to 100 in 3 seconds without a drop of oil" ("Tesla annual report," 2020). The statement has attracted people's attention creating a positive outlook of its brand.
Tesla SWOT Analysis
The SWOT analysis outlines the company's Strengths, Weaknesses, Threats, and Opportunities as indicated in table 1 below:
Table 1: Tesla SWOT Analysis.
Strengths

Innovativeness
Top employer
Leading automotive company

Weaknesses

Manufacturing complexities
Small target segment
Capital intensive
Limited presence

Opportunities

Environment friendly
Self-driving technology
Global expansion

Threats

High competition
Inadequate regulation
Controversial CEO: Elon Musk
Tesla has distinguished itself as a leading innovation company. The company has significantly invested in research and development. In 2020, Tesla spent close to $1.5 billion in research and development. Such an investment has set the company apart from other car manufacturers in developing new products and renewable energy solutions. Also, such spending is aimed at developing technology that is hard to imitate. In 2020 Tesla delivered close to 500,000 vehicles representing an impressive 36 percent rise in deliveries than in 2019. This shows the company's growth and is representative of its top position in the automotive sector. Besides, Tesla has been recognized among the top employers in the world (Tiwari, 2017). The company employs over 70,000 people representing a diverse workforce, many of whom are young people who are energetic and innovative.
Tesla is a relatively new company in the automotive sector competing against established companies such as Toyota and General motors. Therefore, in developing its cars, it has encountered manufacturing challenges. The company has a limited number of manufacturing plants that cause delays in delivering vehicles to customers. The company's core market in the US, accounting for over 70 percent of the market share. Even though the market share in China is growing, it is still tiny. Therefore, its presence in other parts of the world is quite limited, hindering its growth and expansion. Besides, Tesla produces high-quality cars that only a tiny segment of the market can afford. Its vehicles are pretty expensive for the masses to be able to pay for. Moreover, the company has been making losses for quite some time even though it made some $721 million in profits in 2020 ("Tesla annual report," 2020). This is attributed to very high operating expenses.
The company still has a vast market to tap into, especially in Asian countries. The market share in China is still low, and the company can serve many people there and in India. Tesla's sustainability approach towards using electricity and solar energy compared to fossil fuels presents a vast opportunity for growth as demand for green products goes up. The company also introduced the self-driving feature that is appealing to most people ("Tesla SWOT analysis – strategic analysis of Tesla Motors," 2021). The technology is very much likely to transform into the automotive industry.
On the other hand, Tesla faces stiff competition from established industry players. Despite being the pioneer in the manufacture of wholly electric cars, different manufacturers have also swiftly embraced technology. Furthermore, despite the claim that electric vehicles are safe and flawless, there have been faults in electric cars' design and manufacture, causing foremost safety worries. Such instances are likely to lead to a loss of trust and poor brand image. The self-driving feature has not been keenly legislated on, which could cause anxiety among the clients. A controversial CEO, Elon Musk, also leads the company (Birk, 2015). Even as he plays an integral role in the company's success, his unpredictable conduct could paint a negative picture of the company.
Tesla PESTLE Analysis
The PESTLE analysis involves assessing external factors that can affect the company's activities if not well managed. The analysis includes the Political, Environmental, Social, Technological, Legal, and Economic factors. Tesla has benefited from an encouraging political environment through tax credits to people who buy electric cars in the US and investment in manufacturing infrastructure and research and development. The economic environment is also supportive amid broader negotiations to reduce cross-border trade tariffs between the US and Europe. The company's key market, the US, has a stable economy that is well managed with low inflation and interest rates (Tiwari, 2017). China also has a high economic growth rate, and people's incomes are rising, creating a need for luxury cars.
Social factors include people's perceptions, lifestyle, and working conditions. Tesla is supported by a population that is constantly embracing its products as people become more conscious of the environment they live in and work in. As regards technology, Tesla has developed a unique technology despite its low level of acquisition. It is also limited by weak infrastructure for charging the vehicles. The US and China have different environmental standards. While the US has more strict environmental laws, China has more accommodative environmental laws. The US also provides tax credits for companies creating solutions that reduce the impact on the environment. On the legal front, China has no good rules to protect intellectual rights (Kissinger, 2018). The US has developed good laws on intellectual property, consumer rights, and data protection.
Target Market
Tesla's cars are aimed at high-income people aged 25-60 years. The segment includes people with good jobs who have a taste for luxury items. Also, the market should have an annual household income of over $100000 to afford the company's electric cars. The market entails people who want to have a feel of a high-performance vehicle that is enjoyable and safe. They also must support environmental conservation because the cars have zero emissions to the environment. However, this constitutes just a tiny portion of the entire population (Gregersen, n.d.). The market is further limited by the company's few dealership strategies and expensive cars.
To attract more customers, the company has created different models at different pricing points. For instance, the Model S targets innovative minds who are well-knowledgeable and willing to risk an untested product. The model is priced at around $65,000. Tesla invented a cheaper option of Model 3, retailing at about $35,000, making it more affordable than all the other models. Despite the low price, the Model 3 has been embraced well in the market owing to its performance and style. Model 3 is mainly owned by people living in wealthier states led by California (Furrier, 2020). Most owners are from warmer regions and tend to be of the older generation.
However, Model 3 owners are relatively younger compared to the owners of Model S and X. The median age of the three models is 46 years, 52 years, and 54 years, respectively. Also, Model 3 is mainly owned by the male gender at 84 percent (Tiwari, 2017). This proportion is represented across the Model S and X though in declining proportions at 77 percent and 71 percent, respectively.
Tesla Porter Five Forces Analysis
Porter's Five Forces represent a framework within which an organization can assess its competitive power. It also informs the appropriate business strategy, pricing, and future direction. First, the threat of new entrants into the automotive industry is relatively low. Car manufacturing, mainly electric cars, requires massive investment in technology, research, and development. Also, Tesla has developed distinctive rechargeable lithium-ion batteries. The bargaining power of buyers is relatively low even though they make the final purchasing decision. The buyers cannot dictate the final product price but can exert some slight pressure on the company to reduce expenses (Birk, 2015). Tesla has considered this factor and set different prices for its other car models and solar products.
Suppliers in the automotive industry have high bargaining power. Tesla may have faced numerous challenges in engaging these suppliers, mainly due to fears of the new electric car technology. The few suppliers willing to supply the company with raw materials would sell the items at higher prices. Tesla is not faced with the threat of substitute products. At the moment, no other company has developed electric cars powered by lithium-ion batteries that can sustain a car for up to 200 miles on a single charge. The rivalry among existing players in the automotive industry is very intense (Tiwari, 2017). Gasoline car manufacturers are working hard to develop their models of electric cars or hybrid versions such as the Toyota Prius (Toyota), Chevrolet Volt (General Motors), Daimler AG (Mercedes), and BMW's i-series.
Traditional and Digital Marketing Channels
Tesla's success to greater degree results from the effective use of both digital and traditional marketing channels. For instance, the company promotes the image of its cars and cooperates with distributors and media, such as shows, print advertising, magazines, and newspapers (Tansel, 2015). Using this traditional marketing channel, its managers remain in touch with the less innovative audience and remain attractive to them. Moreover, it helps to struggle with other companies working in the same sphere and preserve the competitive advantage. Tesla is successful in this mode of marketing due to the well-thought-out approach and the creative ideas that help to attract new clients.
At the same time, digital marketing becomes more important for the brand as it helps to attract public attention. However, instead of using some common approaches, Tesla employs a unique strategy presupposing creating and opening its showrooms. They are opened to demonstrate the vehicles, take photos, and inspire potential clients to buy a product (Khmelkov, 2017). The popularity of the brand is at a critically high level at the moment, meaning that there is no need for additional advertising (Khmelkov, 2017). That is why the company focuses on how to make the process of purchasing easier. The brand has a unique website providing an opportunity to buy any Tesla car in a few clicks without any third parties. It increases sales and the constant level of clients' attention (Khmelkov, 2017). Moreover, the brand managed to create a unique network helping to remain in touch with different regions and people living there (Khmelkov, 2017). In such a way, combining both digital and traditional marketing channels, the company manages to succeed and remain highly popular.
Value Positioning Strategy
Tesla is also concerned with the development and support of its own unique positioning strategy that can guarantee its leading positions in the market. First of all, the brand is positioned in the electric vehicle market, which acquires popularity today and can be the most attractive segment in the future (Trefis Team & Great Speculations, 2015). Moreover, Tesla acts as a high-end manufacturer and dealer, meaning that it can sell its products directly to clients without the participation of third parties (Trefis Team & Great Speculations, 2015). It decreases dependence on partners and dealers as there are unique stores, service centers, and innovations, such as a website with an option to buy Tesla in several clicks, promoting better cooperation and empowering its current positioning strategy (Birk, 2015). It helps to remain a leader in the market of electric vehicles.
Furthermore, Tesla positions itself as a unique brand with several specific features. First of all, it is innovative, meaning that by buying a car, a client invests in the future (Trefis Team & Great Speculations, 2015). Second, it is recognizable and luxurious, which can improve the social status of an owner (Birk, 2015). Moreover, it is environmentally friendly and helps to reduce emissions (Trefis Team & Great Speculations, 2015). This unique positioning helps to create an exceptional value appreciated by clients. Another vital aspect is the logistics as all sales are made through company-owned stores. It means a decreased level of spending due to the elimination of other transport companies and the ability to control the supply chain by planning supplies to different regions. Under these conditions, the current value positioning strategy contributes to the better functioning of Tesla and its ability to generate a competitive advantage.
Tesla's Perceptual Map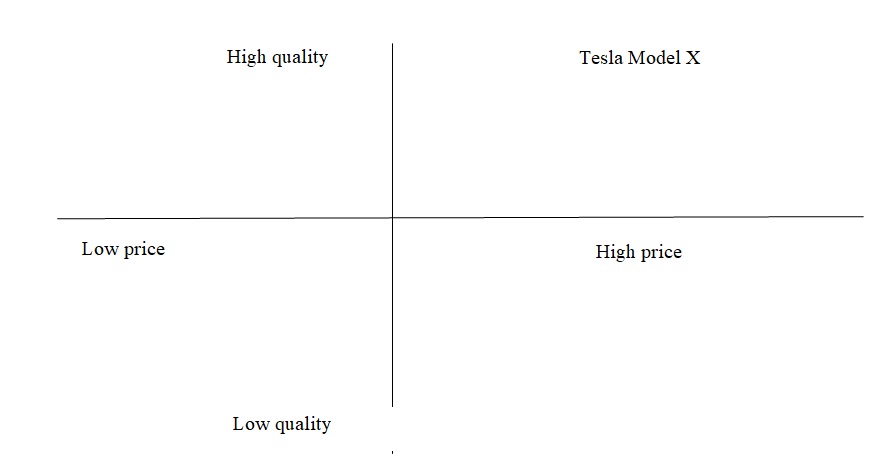 Tesla positions itself as a unique brand with the perspectives for stable development due to the creativity, innovativeness, and unique characteristics of created vehicles. For this reason, there is a specific positioning that reflects these values and their importance for the company. Thus, using Tesla Model X, it is possible to create the perceptual map and outline the major characteristics of the offering and product. From the map above, one can see that the vehicle belongs to the segment of high price and high-quality products as at the moment, it costs about $121,000 ("Tesla annual report," 2020). The given sum is preconditioned by multiple factors, such as design, innovativeness, creativity, use of technologies, and the brand's image. For this reason, by buying a product, a client becomes a member of a unique owners' club attracting public attention.
Thus, the core value of the Tesla Model X is transportation. Buying this vehicle, a client wants to achieve a particular destination point safely and with no delays. For this reason, he/she wants to buy the model. For this reason, the actual product is an electric car with multiple features offering a consumer a chance to fulfill his/her transportation needs and enjoy the trip. The car designed by the company has a certain value for a client because of the set of functions it has and the ability to improve his/her well-being (Tansel, 2015). Finally, the augmented level presupposes all additional issues, values, and beliefs associated with a certain product. In such a way, by buying Tesla Model X, a person acquires more than an actual or core product. However, a client obtains a specific status because of the popularity of the model, its luxurious image, and multiple unique services linked to it.
Life Cycle
The product's lifecycle is another important element of Tesla's functioning. The company positions itself as an innovative, more environmentally friendly corporation caring for nature. For this reason, it tries to create vehicles with a prolonged lifecycle that will remain attractive for clients and the chance of being reused. In general, any item presented to the audience has an introduction, growth, maturity, and decline stages, determining the current level of interest for it and reputation among the potential buyers (Tansel, 2015). Thus, speaking about Tesla Model X, it is now on the growth stage of the product lifecycle, which can be justified by several factors. First of all, its sales started in 2015, meaning that the product remains topical and attractive for consumers from different countries. The vehicle has already passed the introduction stage, during the first years of sales and elimination of defects discovered in some cars. However, at the moment, the interest for the model remains stable, regardless of the high price and some technological problems ("Tesla annual report, "2020). It means that the sales will continue to grow till the product enter the maturity phase with a stable level of deals.
In general, the current approach selected by the brand guarantees that the product will remain attractive for clients during extended periods of time. The combination of innovativeness, creativity, and progress help to prolong the lifecycle and ensure that the corporation will continue generating revenues from one of its most expensive products. Furthermore, the focus on the creation of a luxurious and attractive image helps to transform Tesla into one of the cars representing a particular lifestyle. For this reason, the current lifecycle can be viewed as one of the factors promoting the success of the corporation.
Marketing Channel System
Finally, the success of the brand can be linked to the marketing channel system it employs. As against other car manufacturers, Tesla does not have millions of cars in their inventory; instead, they fulfill existing orders and provide clients with vehicles on their request. It helps to improve inventory management and acquire better outcomes along with the reduction in costs. Thus, the adherence to this scheme demands a specific vertical marketing channel guaranteeing control over all stages of the process (Tansel, 2015). Graphically, it can be represented in the following way: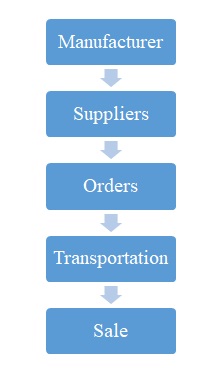 From this scheme, one can see that Tesla can control all processes vital for the successful sales of its products. Being the manufacturer, the brand can produce the desired amount of goods to meet the current clients' needs. Moreover, it controls the work and cooperation with suppliers, meaning that it has the power to manage the supply chain. Furthermore, communication with clients is aligned via the website, which has all options for ordering a product transported for the owner (Tansel, 2015). Finally, Tesla does not need partners responsible for sales as it does not have already made cars available to all clients. They should be ready to order them and wait.
Under these conditions, it is possible to conclude that the marketing channel system selected by Tesla is effective enough to fulfill its current needs and create the basis for future development. As against other companies, the brand tries to minimize the number of partners and intermediaries to control the most important processes and ensure that they will acquire the demanded car in time. For this reason, the vertical scheme is the best possible option for Tesla.
References
Birk, D. (2015). Tesla Motors, Inc. market analysis and definition. Grin. Web.
Furrier, A. (2020). Tesla: Business model and strategic analysis. Alec Furrier. Web.
Gregersen, E. (n.d). Tesla, Inc: American company. Web.
Kissinger, D. (2018). Tesla Inc. SWOT analysis & recommendations. Panmore Institute. Web.
Khmelkov, V. (2017). How GoPro and Tesla destroy digital marketing. Valoso. Web.
Tansel, A. (2015). Marketing report on "Tesla Motors." Grin. Web.
Tiwari, D.J. (2017). Marketing research on Tesla Inc. – Strategic analysis. Strategic Engineering Management. Web.
Tesla annual report (2020). Sec.gov. Web.
Tesla business analysis. (n.d). Minimalist.com. Web.
Tesla SWOT analysis – strategic analysis of Tesla Motors. (2021). Someka.net. Web.
Tesla's mission is to accelerate the world's transition to sustainable energy. (n.d). Tesla. Web.
Trefis Team & Great Speculations. (2015). Tesla's unique position in the car market is one of its biggest strengths. Forbes. Web.